how to create the luxury shower of your dreams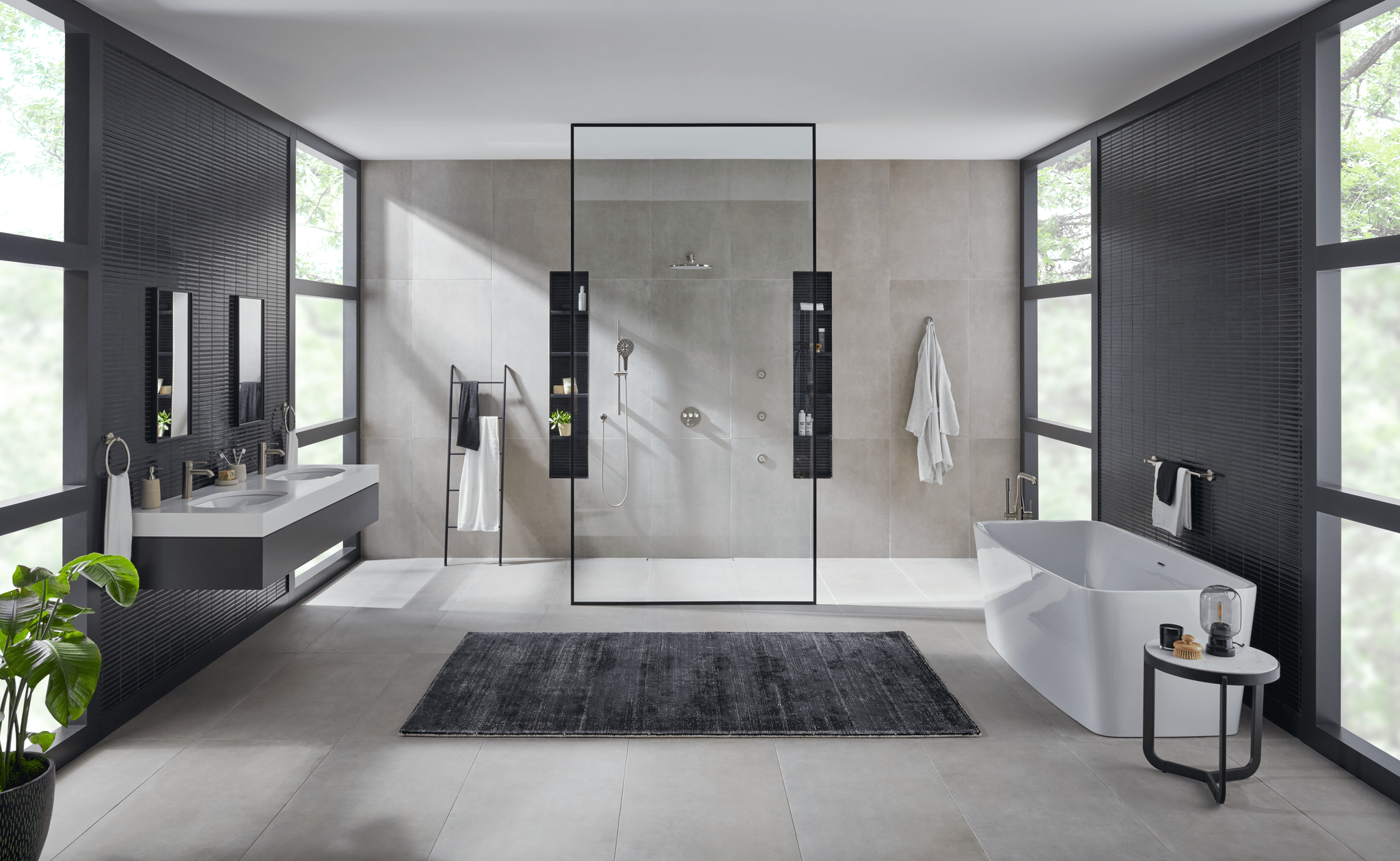 EXPERIENCE THE JOY OF THERMOSTATIC SHOWERING
How does GROHE make dream showers a reality? The answer is simple. As in, we make the process as simple as possible. We've perfected each step of the shopping, specification, and installation experience so that our customers enjoy every single drop of water that flows through their brand new GROHE shower systems. Large or extra-large, fitted flush to the ceiling or wall mounted, GROHE showers come in all shapes, styles, and sizes, each one designed with your satisfaction and enjoyment in mind.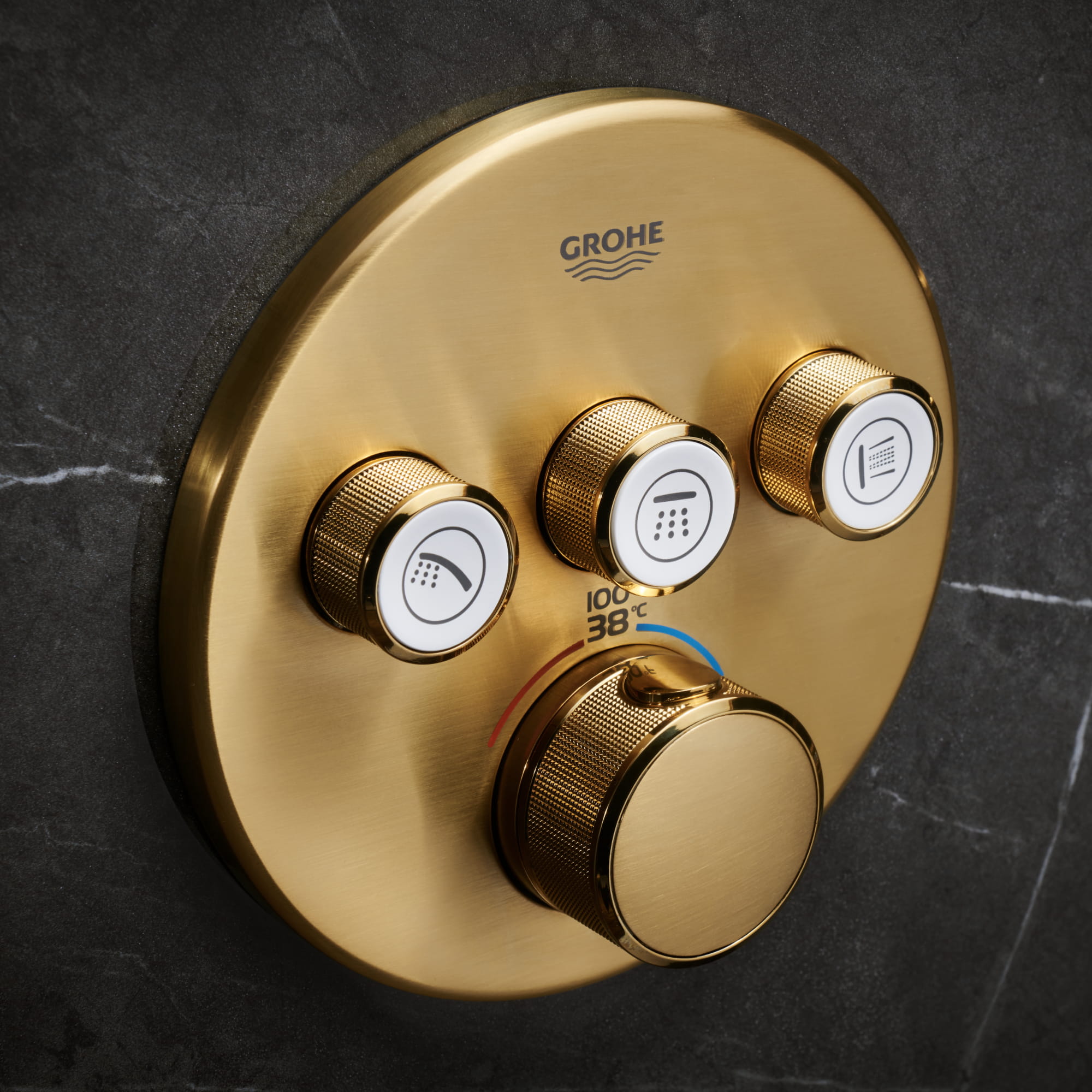 Thermostatic showers deliver an accurate mixture of hot and cold water using a precisely calibrated thermostatic element. While this sounds simple enough, thermostatic showering delivers an unmatched showering experience with numerous benefits over pressure-balanced showers.
Separate from the volume controls, thermostatic shower valves have a dedicated temperature setting knob, allowing you to turn the shower on and off without adjusting the temperature.
Not only will you never needlessly run water trying to find your preferred temperature, but you'll also have consistent comfort, with the GROHE thermostatic showers delivering the precise combination of hot and cold water required to maintain the desired temperature throughout the duration of a shower. Even when fluctuations in water pressure occur, the shock and danger of a frigid or scalding hot burst of water is eliminated. There's nothing to do but relax.
ENTER THE WORLD OF GROHE AND FIND YOUR PERFECT SHOWER
Everyone wants the "perfect shower," but what does the perfect shower include? What would you like your "dream shower" to do?

If the ease of setting shower temperature is important and you worry about unsafe or uncomfortable changes in water temperature, consider thermostatic showers, such as our SmartControl and Euphoria CoolTouch shower systems which offer GROHE TurboStat and CoolTouch technology to keep you and your family safe from potential scalding and freezing.

Do you get aches and pains that could be soothed by massaging shower sprays? Consider our SmartActive Body Sprays and/or SmartActive Handshowers for targeted massage.

If at times you like to shower without getting your hair wet during showering, use a standard shower head or a hand shower, such as our Tempesta and Euphoria Collections, on a slide bar.

Accessibility is also something to consider. If you or any users of the shower have limited mobility or expect changes in mobility in the next 10 years, consider installing a hand shower with multiple spray options, such as our Power & Soul Collection, for ease of use and convenience. Hand showers are also useful if you will be using the shower for bathing children or pets, or if you like to clean the shower by rinsing the walls.
THE BASICS OF SHOWER DESIGN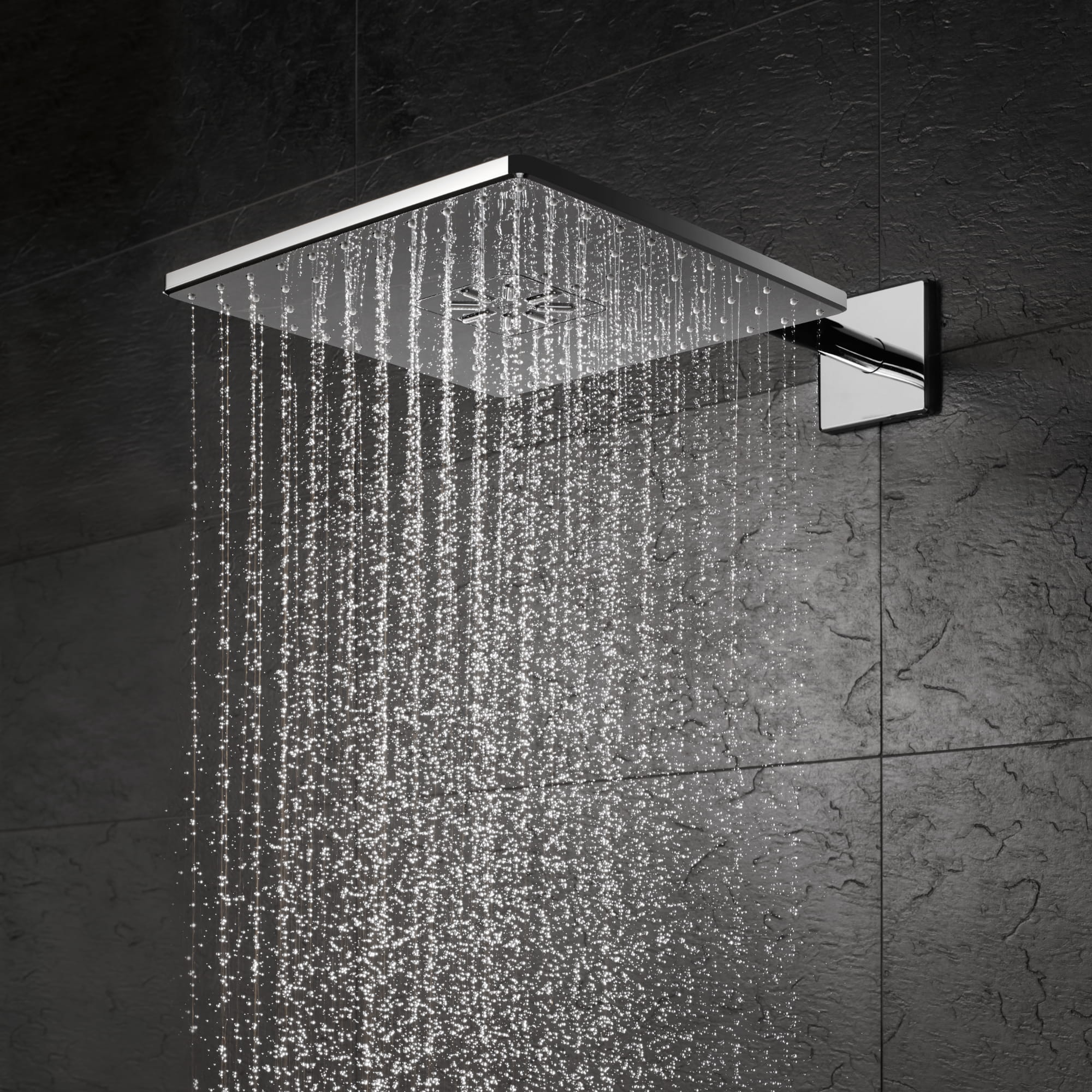 Rain shower heads are typically 8-inches or larger and offer full body coverage with a soft, immersive rain spray. Single function is most common, but GROHE offers a range of multi-function rain shower heads to satisfy every showering preference. Standard shower heads are typically 8-inches or smaller, and often come with multi spray patterns.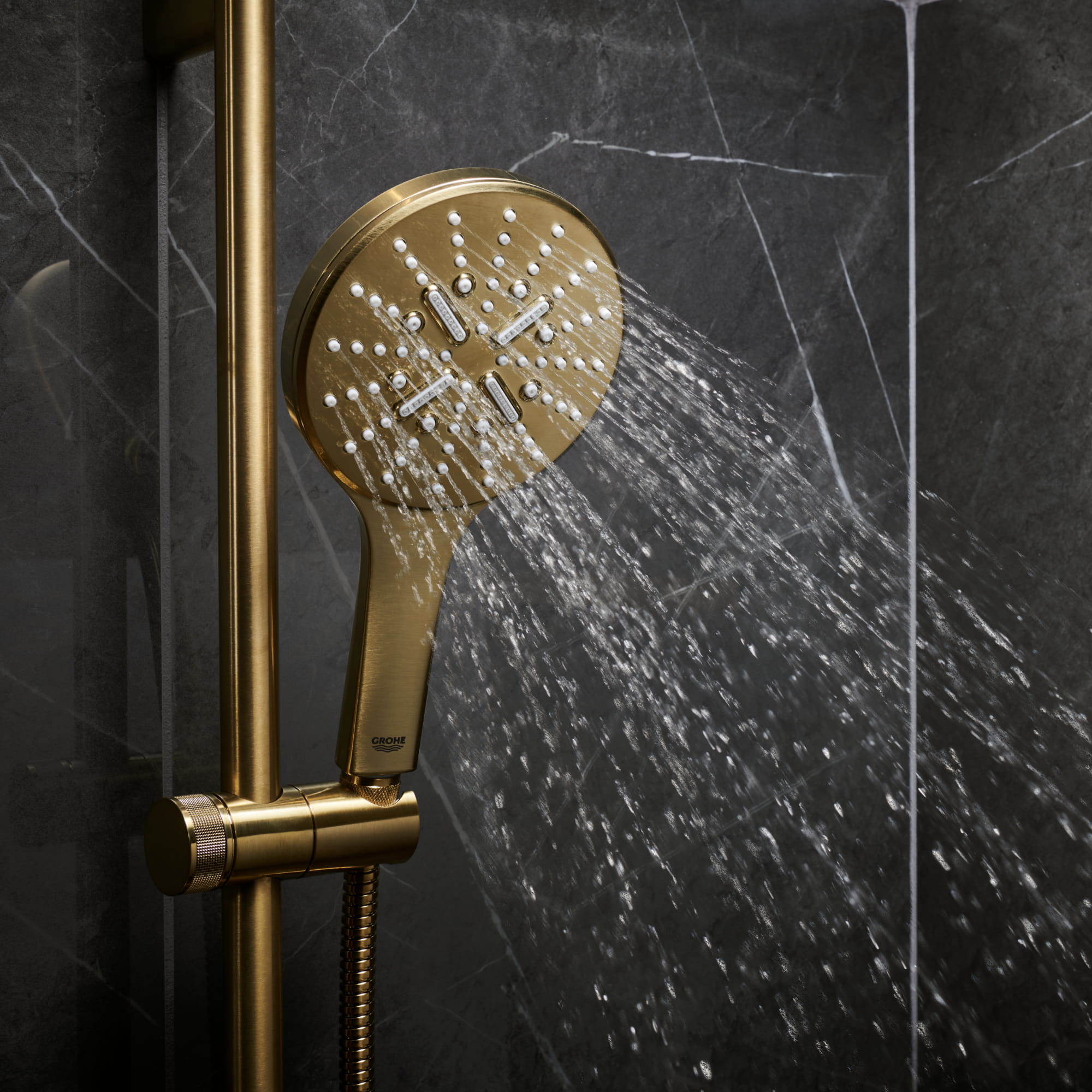 Hand showers are an excellent multi-purpose shower outlet and should be considered for every installation. Hand showers are often a secondary outlet in addition to a showerhead but can be used in place of a showerhead as well.

Benefits & Uses
• Easily rinse small children, pets, and shower walls
• Targeted water spray for massage or rinsing
• Seated showering
Hand Shower Mounts and Slide Bars
Hand showers can be mounted on a slide bar or wall-mounted hand shower holder. Slide bars create flexibility, allowing the hand shower spray to be set at a variety of levels - in a heightened position as a primary or secondary showerhead, mid-height for targeted body spray, and lower heights to provide children with a custom shower experience. Wall mounts create a sleek, minimal aesthetic. Hand shower hoses are available in a variety of lengths, 59" is most common. Consider longer lengths for larger showers or for age-in-place users.

Wall unions join the shower hose to the behind the wall unfinished plumbing and are a critical part of your shower specifications.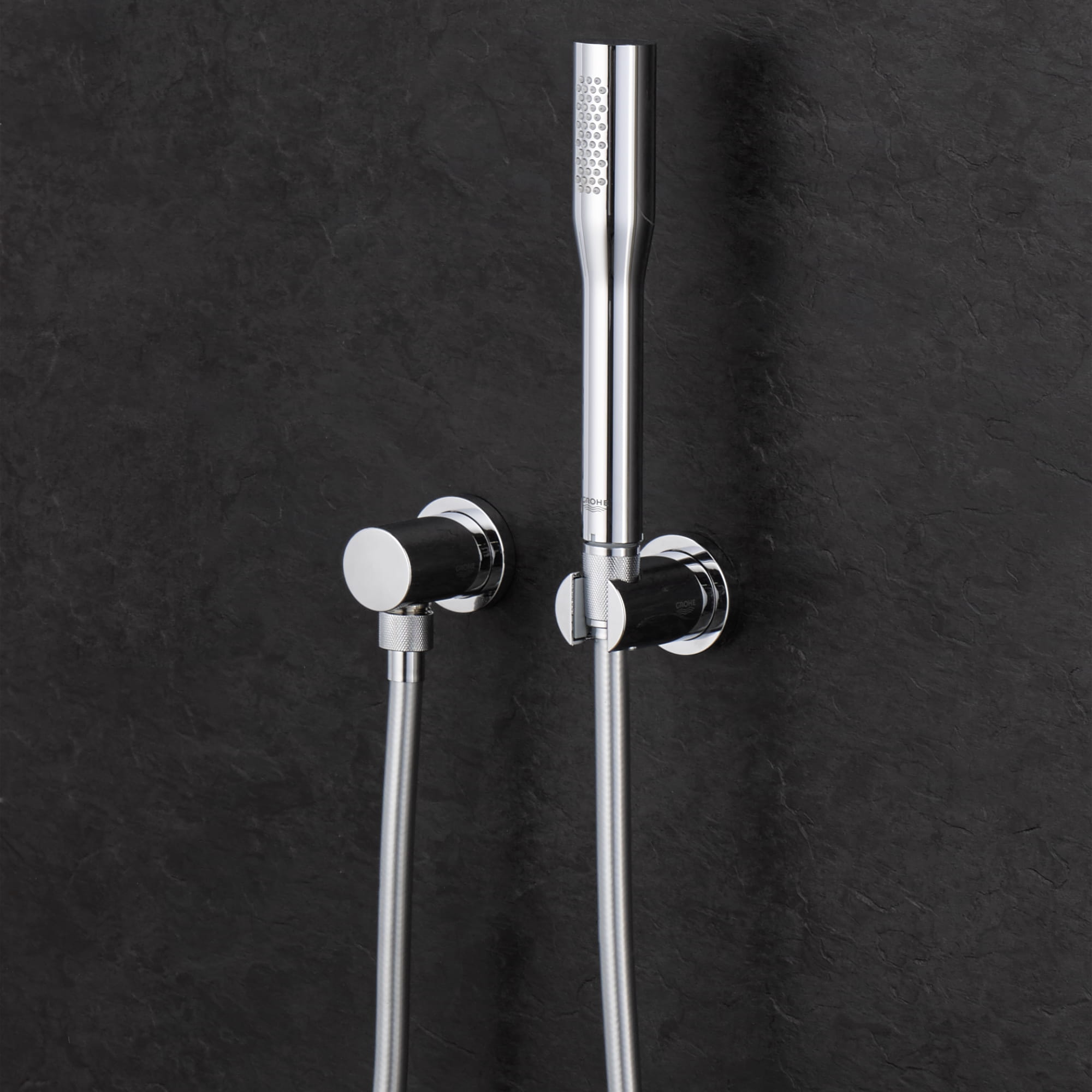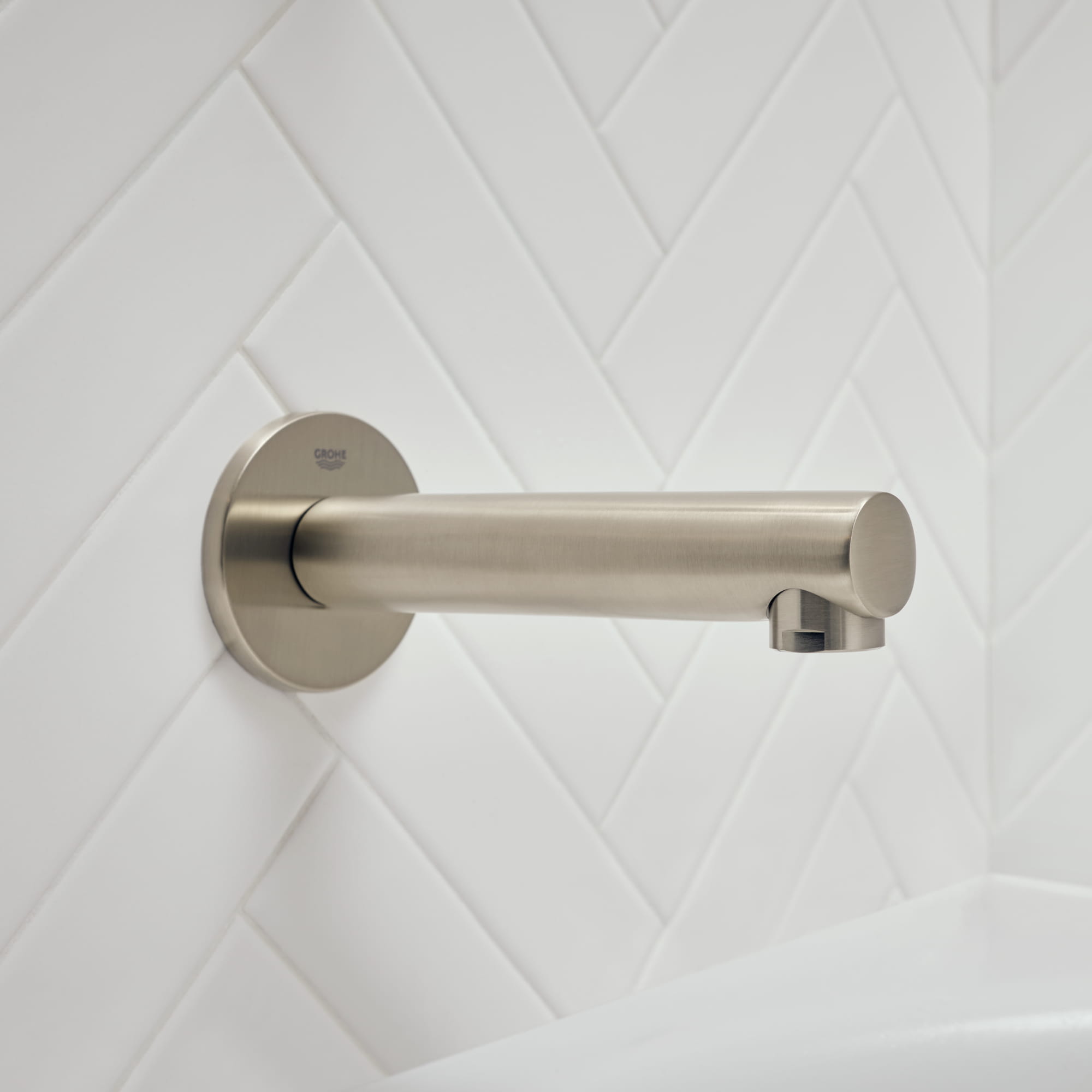 Thermostatic valves use a non-diverting tub spout that allows the user to easily control the on/off and flow of the water by means of the volume control valve. This is a more convenient operation than a diverting tub spout.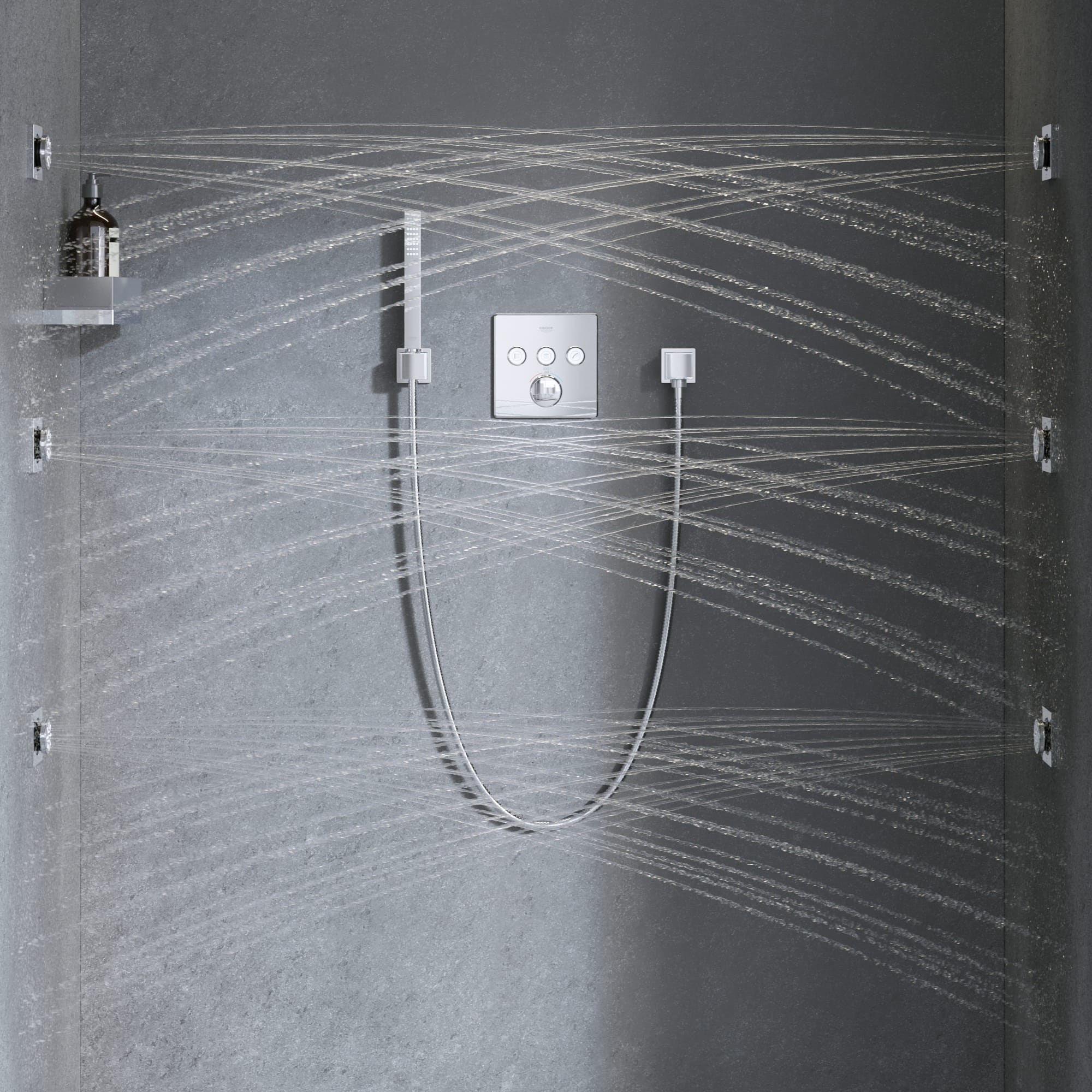 Body sprays are wall-mounted sprays designed for full body coverage and can be placed on a single volume control - you can place up to 6 Body Sprays on one outlet using our GROHE Rapido shower valve.
NO TWO DREAMS ARE THE SAME
Dreams, like showers, are as unique as the people who have them. From the smart and efficient to the lavish and luxurious, we've assembled the following shower configurations to help you envision your dream.
Simplicity Select Shower
Enjoy the spa-inspired luxury of a drenching rain shower head. Complete the experience with a hand shower for targeted body spray or as a convenient utility feature to clean walls or rinse down children and pets.
Spa Indulgence Shower
Why choose one when you can have it all? This stunning system combines a rain shower and standard shower head with a hand shower and 6 body sprays for the ultimate showering experience.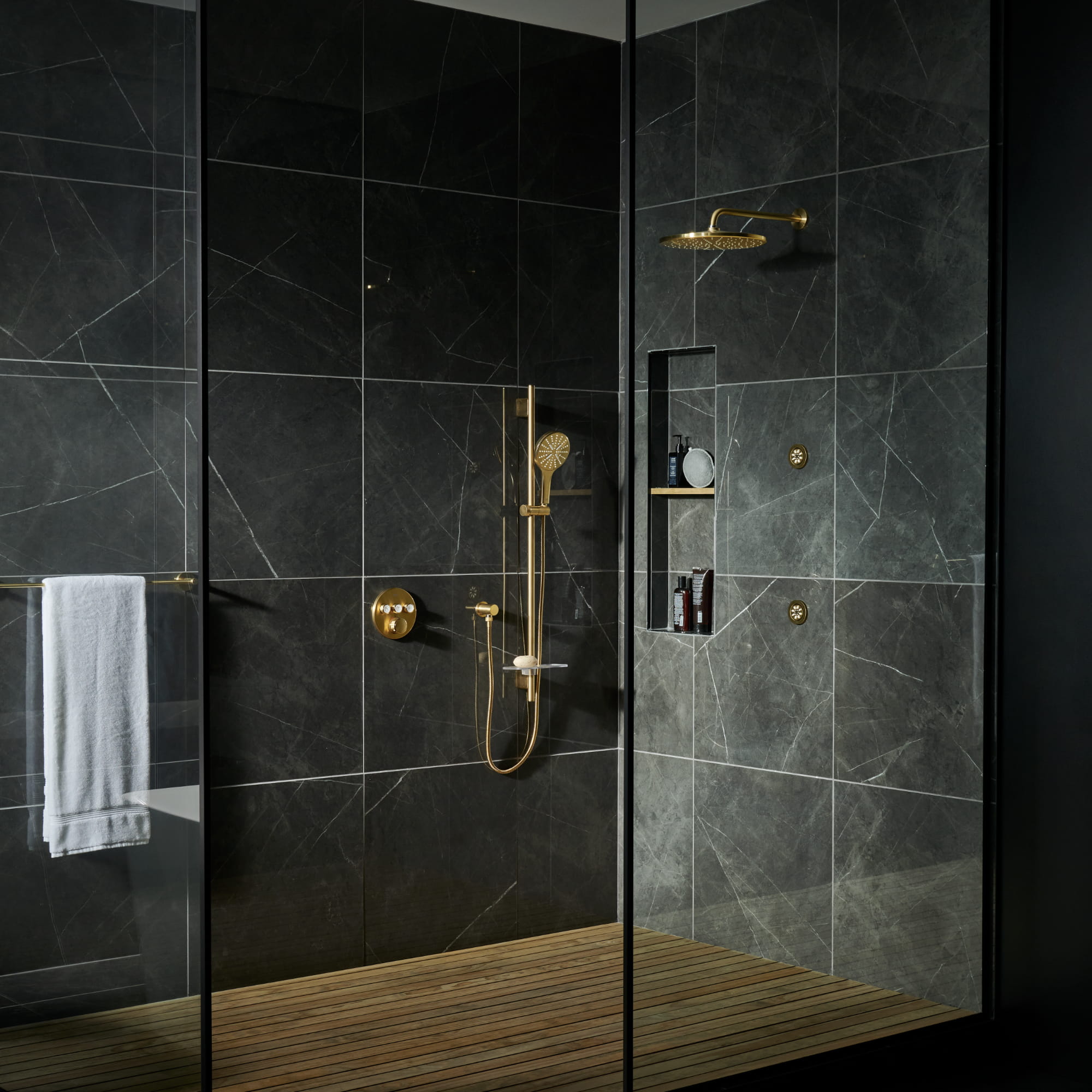 Dual Shower Head Absolute Shower
Change things up and make the most of your shower by installing both rain shower and standard shower heads in the same space for an unforgettable experience.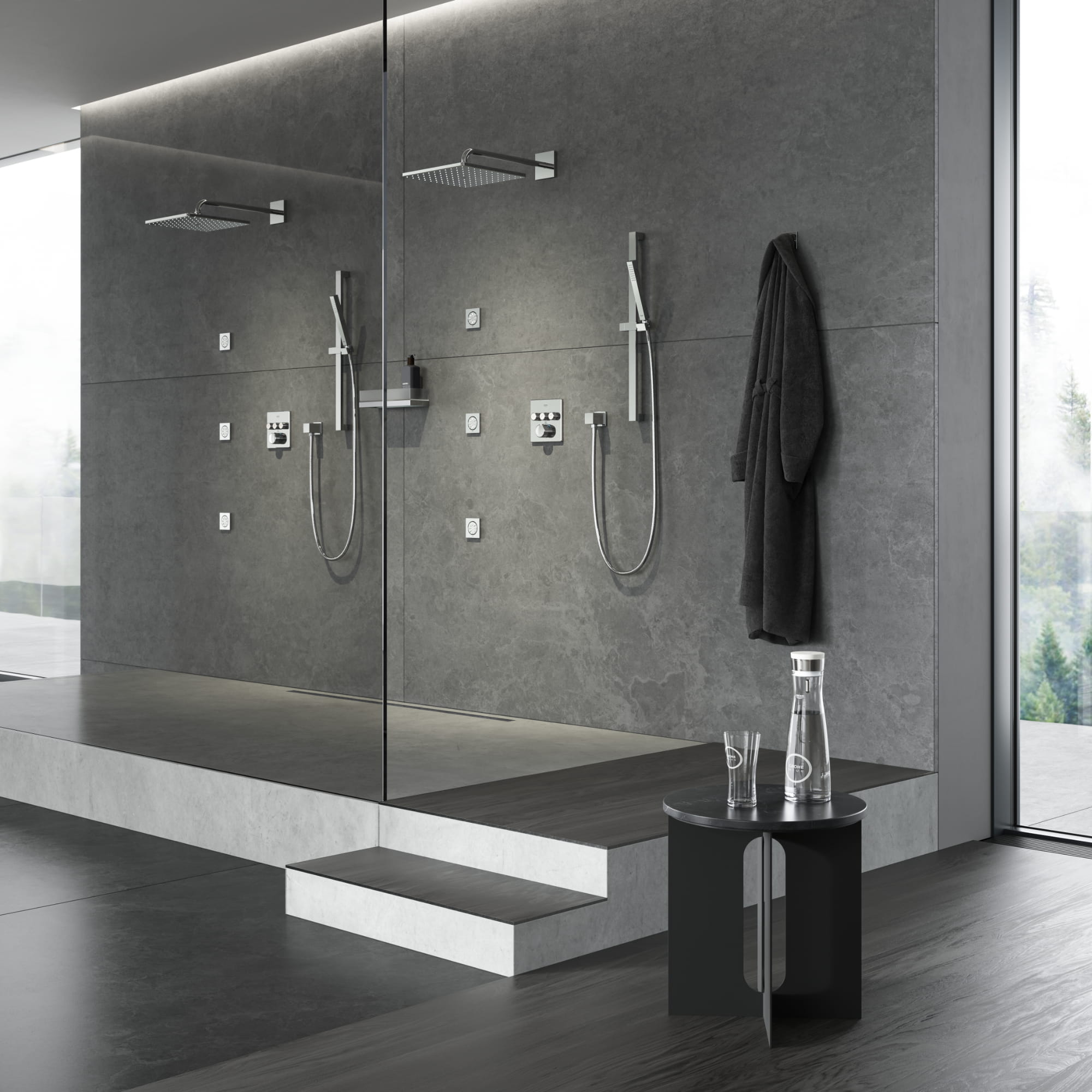 Grand Duet Companion Shower
Double up and design an optimal shower environment for two users with an immersive system that uses two sets of thermostatic shower valves to cater to individual needs and preferences while maintaining a coordinated look.