Grohe blue chilled & sparkling 2.0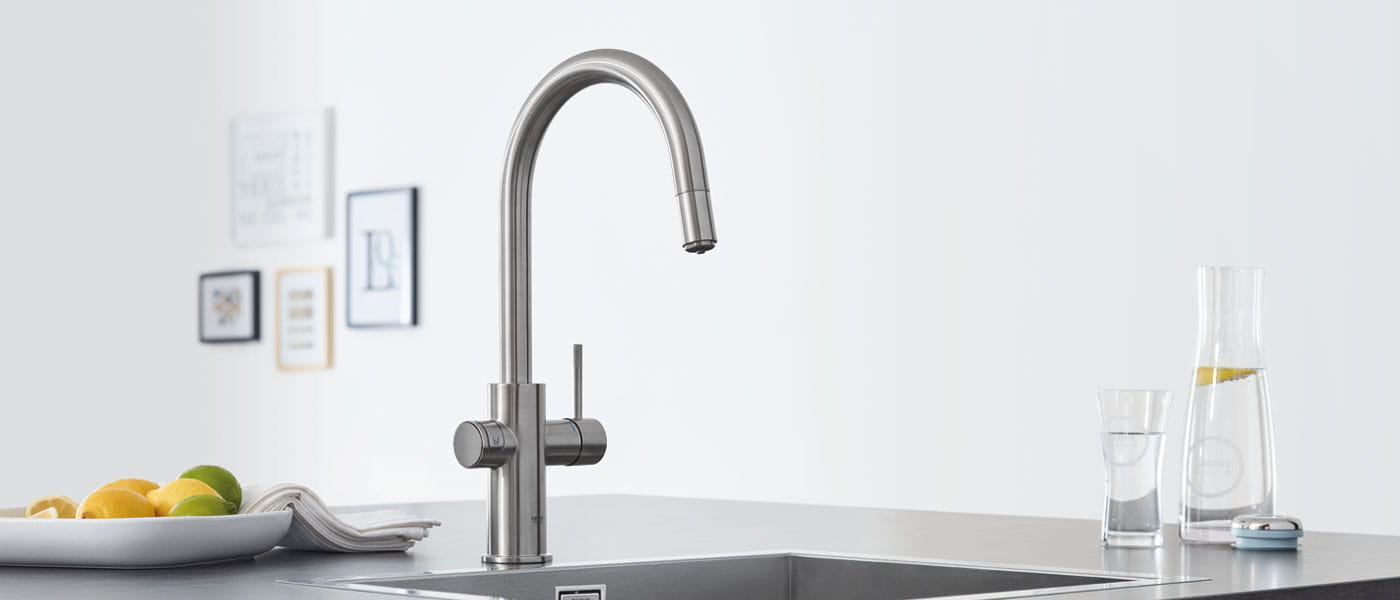 100% refreshment straight from the tap
Think for a moment about the energy and hassle it takes to keep a supply of bottled water on hand at home. You have to buy it from the supermarket, then lug it from the car to your house. Once there, you have to find space to store it out of sight. And when you've finished it, you have to return or recycle the plastic bottles, before starting the whole process again.
By installing a GROHE Blue® system in your kitchen or office, you can say goodbye to the hassle and inconvenience of bottled water with no compromises on taste or health. Just turn the tap and enjoy filtered, still or sparkling water in your own kitchen. What could be easier than that?


water tailored to all tastes
chilled, medium or sparkling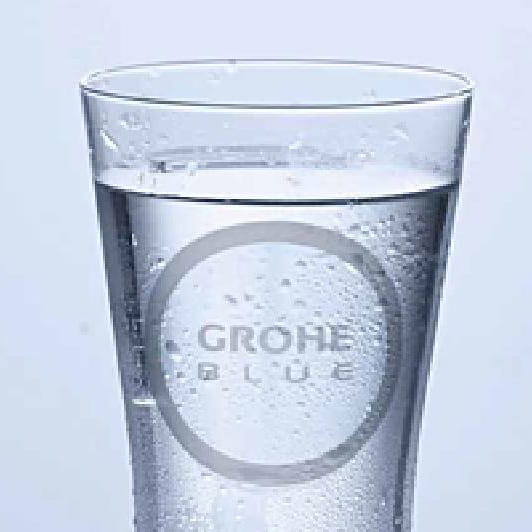 CHILLED
Great-tasting chilled water, freshly filtered.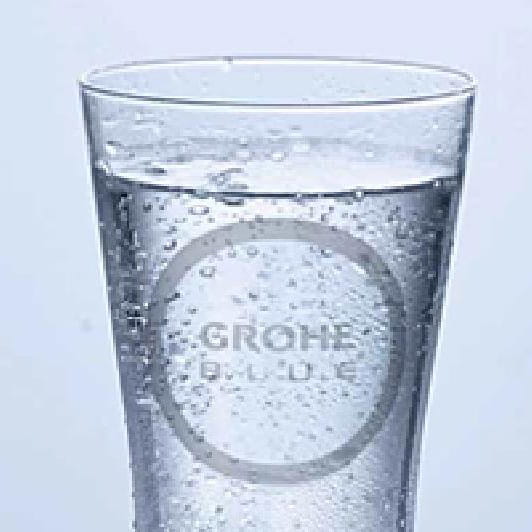 MEDIUM
Sparkling- but not too much. More of a medium sparkling.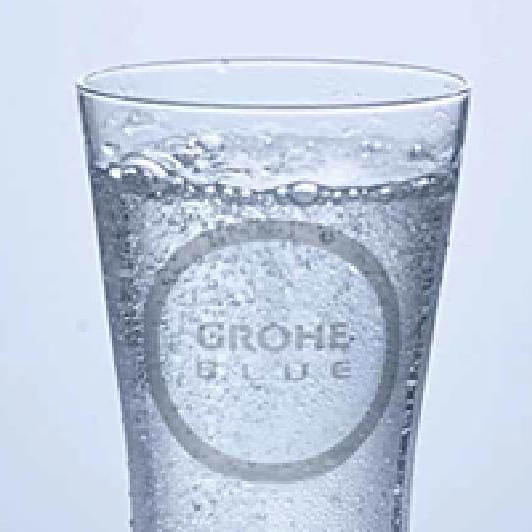 SPARKLING
Alive with bubbles for an instant thirst-quencher.
Greener, Cheaper and Easier to Manage
GROHE Blue Chilled and Sparkling 2.0
SEPARATE inner water ways for filtered and non-filtered water.


PUSH BUTTON with illuminated LED ring for still, medium and sparkling water.

COOLER for chilled and sparkling water supply with integrated display and wireless connectivity.

HIGH-PERFORMANCE FILTER The S-, M- & L-Size filters use a 5-step filtration process to remove even the slightest trace of impurities from the water, while retaining all the important minerals that benefit your health.
A sleek, stylish silhouette
Choose from two sleek spout shapes and two durable finishes for a water system that perfectly fits your space.


your Grohe blue faucet
Beautifully designed to deliver your ideal glass of water.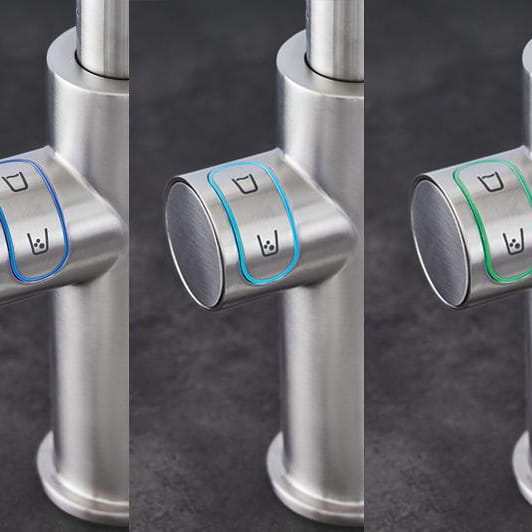 HANDLING
Still - press the top button
Medium Sparkling - press both buttons, one after the other
Full Sparkling - press the bottom button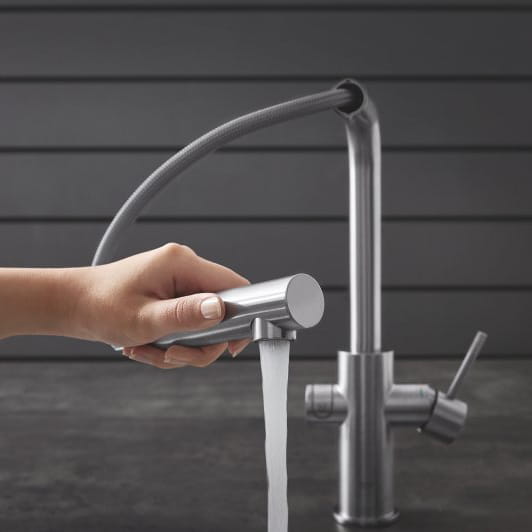 PULL-OUT HEAD
GROHE Blue's pull-out head makes cleaning the sink and filling larger pitchers easier.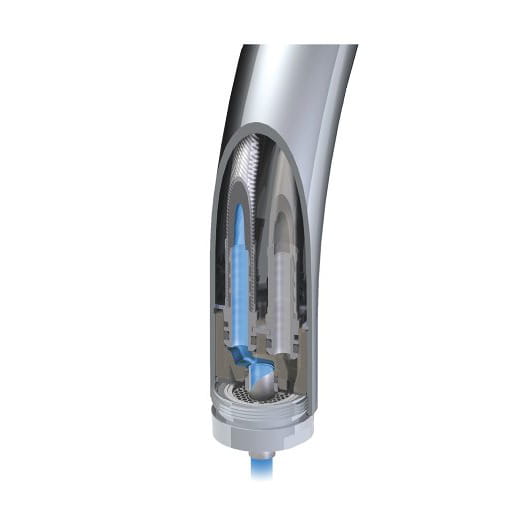 INTERNAL WATERWAYS
Nothing can affect the great taste. Thanks to separated inner waterways inside the tap, filtered water never comes into contact with anything that could affect its clean, pure taste.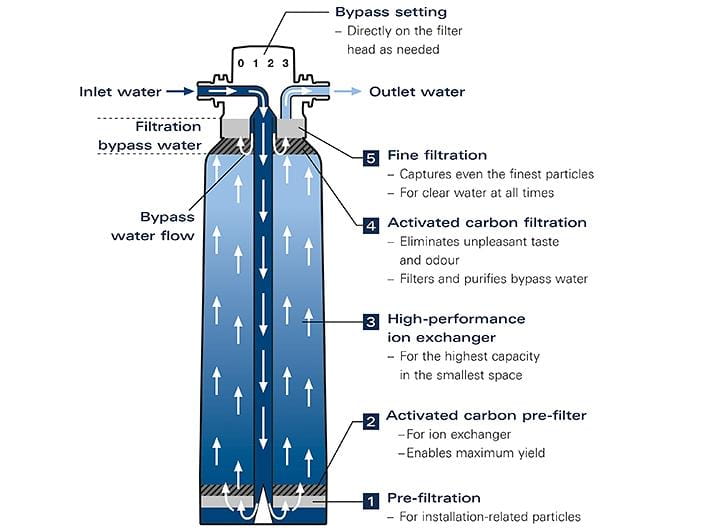 Unique 5-Step Filter Technology
For our GROHE Blue® system we have worked with BWT, Europe's leading filtered water professionals, to ensure that our system produces an unparalleled, refreshing drinking experience.
Our high-performance filters apply a 5-step filtration process to remove even the smallest particles from tap water that will affect taste and smell of the water, while leaving behind all the important minerals that benefit your health. It eliminates chlorine, limescale, heavy metals and particles for a pure and fresh water taste.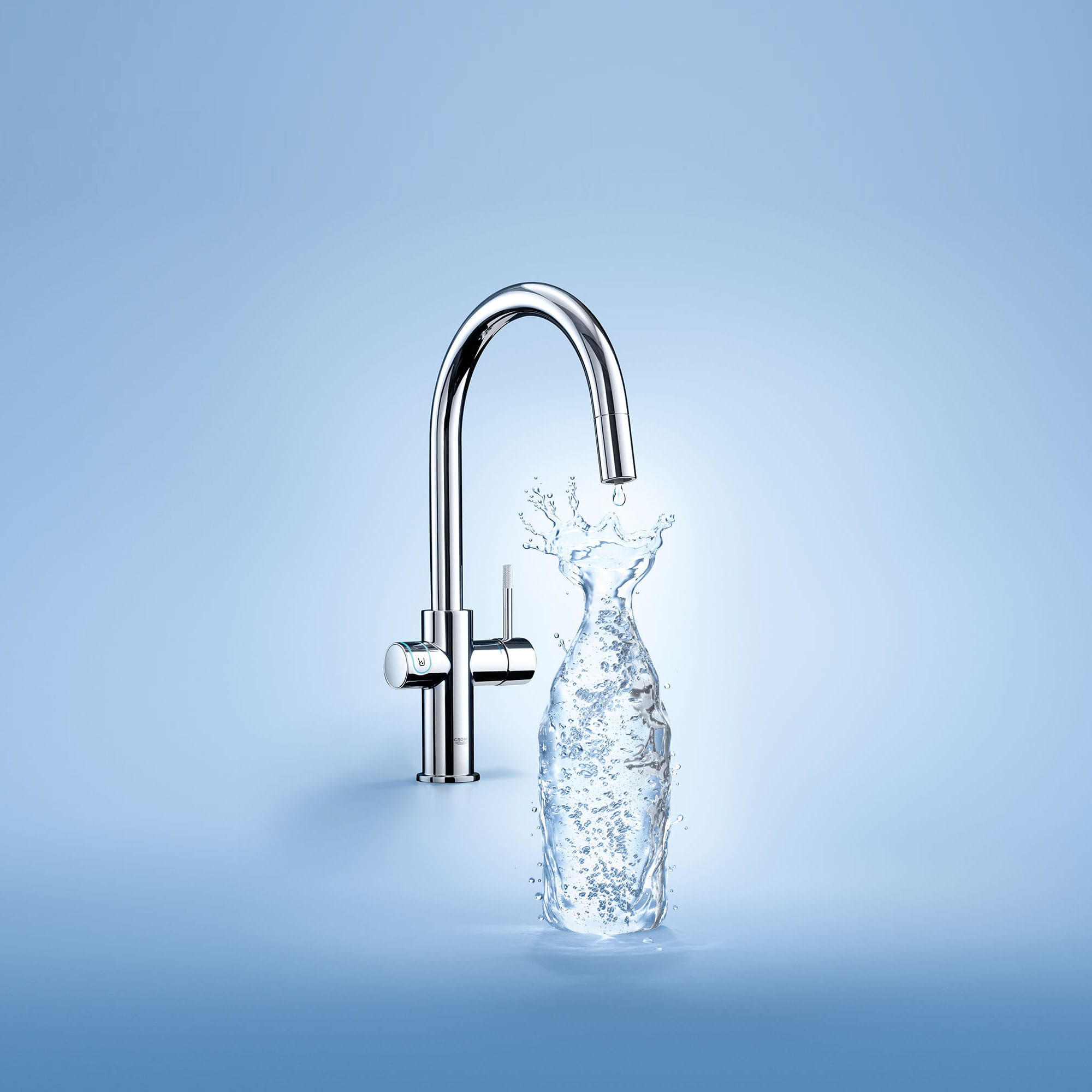 Sustainable Solutions
GROHE Blue® offers a smart alternative which cuts the waste involved in processing bottled water and reduces CO² emissions by an impressive 83%, according to a study by the University of Goettingen. GROHE Blue® also just needs the 1 litre you drink instead of 7 litres for bottled water, reducing waste by 85%. This makes the GROHE Blue® water system a sustainable alternative to bottled water.
Reducing Waste, Respecting Nature
It takes an astonishing 7 litres (1.85 gallons) of water to produce a single quart (1 litre) of bottled mineral water. Not to mention the energy used, CO² emissions created and the 1.5 million tons of plastic packaging used by the industry each year. At GROHE we are always working to secure the future of water, our most precious natural resource. This is the driving force behind the development of such products as GROHE Blue®, which help people manage their water and energy consumption with ease.