Transform a standard shower into a MULTI-FUNCTIONAL,
luxury shower
Ideal for retrofit or renovation, the GROHE Retro-Fit Shower System transforms an existing shower head installation into a luxurious shower system with a shower head plus the added convenience of a hand shower. The upgrade is quick and easy to install. Simply replace the existing shower arm – no need to change the tiles or alter any in-wall plumbing. Once installed, it's easy to use; simply turn the six-position diverter to switch the water flow from shower head to hand shower, or have both outlets on simultaneously. As an additional feature, the diverter includes Eco Mode options for water savings.

GROHE offers a range of shower kits with the shower head and hand shower included. The base (or bare) models let you choose the style of hand shower and shower head that suits your needs and bathroom decor. A renovation upgrade without the renovation price tag.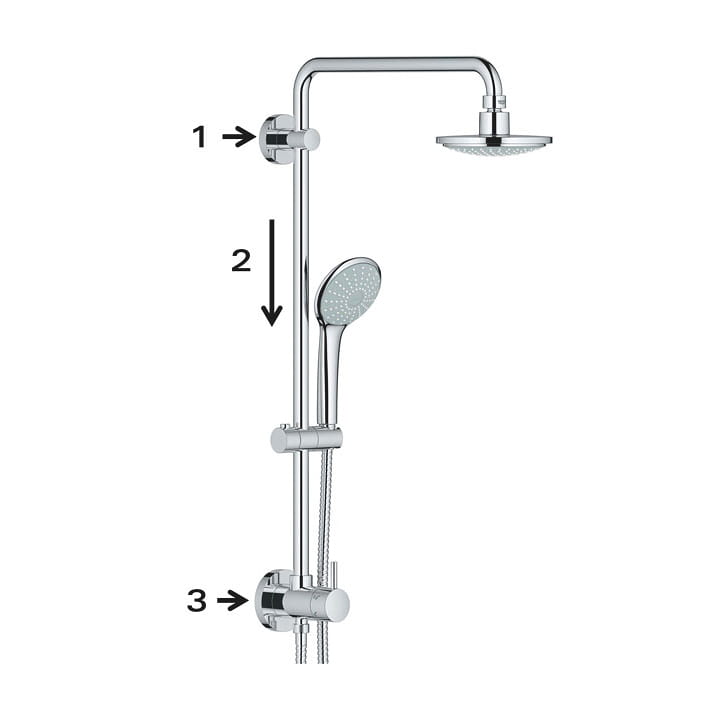 Experiencing Retro-Fit Shower System
1. Quick Installation - Connects to existing plumbing. Water will continue to be directed to the top outlet.
2. Multifunction Shower Column - 24" slide bar with adjustable hand shower holder allows for comfortable position of the hand shower
3. Six-Position Diverter - Select from shower head, hand shower, or both; three standard flow and three ECO flow settings available
No need to remove the existing trim, valve or tub spout.