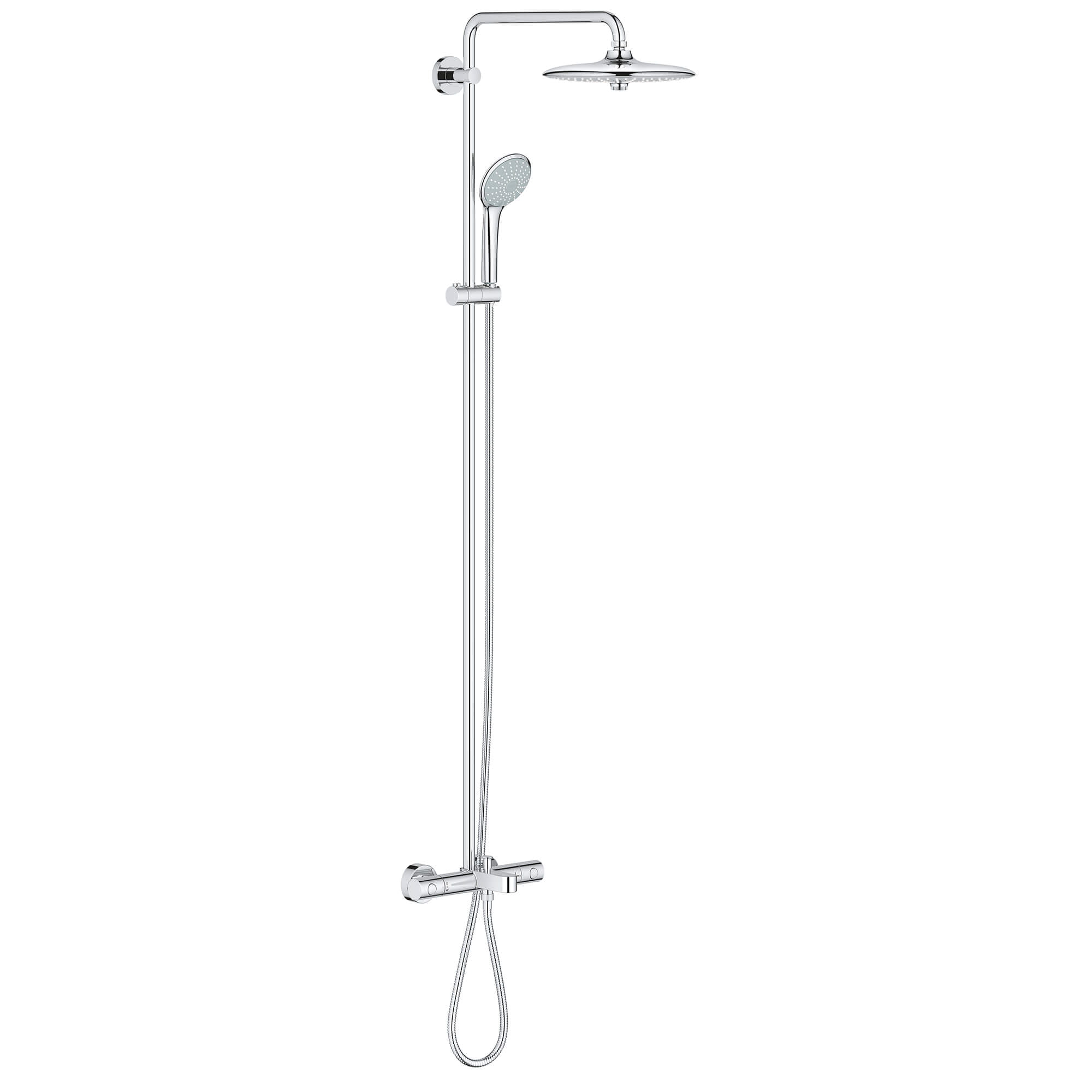 Tub/Thermostatic Shower System, 9.5 L/min (2.5 gpm)
Shipping
Shipping of this product is restricted in some states.
Features
GROHE StarLight®
GROHE TurboStat®
Speed Clean® anti-lime system
Exposed thermostatic temperature control with SafeStop® at 100°F / 38°C
17 11 ⁄16" Shower arm
Switch between hand shower and shower head via built-in diverter
2 Discrete functions (non-shared)
Optional fixed or 45° swivel shower arm
Bar with adjustable height hand shower holder
59" Metal shower hose (28 417)
Includes manual tub/shower diverter
6 5 ⁄8" Tub Spout reach
62 1⁄2" Overall rail height
58" Rail length between upper bracket and thermostat
Tub spout flow rate: 5.3gpm (20L/min) at 45 PSI
Euphoria® 260 shower head (26 457), 2.5gpm
Euphoria® 110 Duo hand shower (27 238), 2.5gpm
Optional EasyReach Accessory Tray 26 362 (Sold Separately)
Optional Spacer Disc 1 ⁄4" 27 180 000 (Sold Separately)
Optional Service Stop 12 400 000 (Sold Separately)
Moments of Truth

GROHE Starlight®
Made-to-last surfaces ranging from precious matt to shiny like a diamond.

GROHE TurboStat®
Always the right temperature, for utmost convenience and safety.

Parts for this product
Following are the list of products or parts which you can also add to your list along with the product, you can also download the parts diagram by clicking on the Download Repair Parts Diagram button

Contact Grohe
5900 Avebury Road
Mississauga, Ontario
Canada L5R 3M3
Phone: 905-271-2929
Toll-Free: 1-888-644-7643
FAX: 905-366-2071