Top 10 Unique Tile Designs for Your Bathroom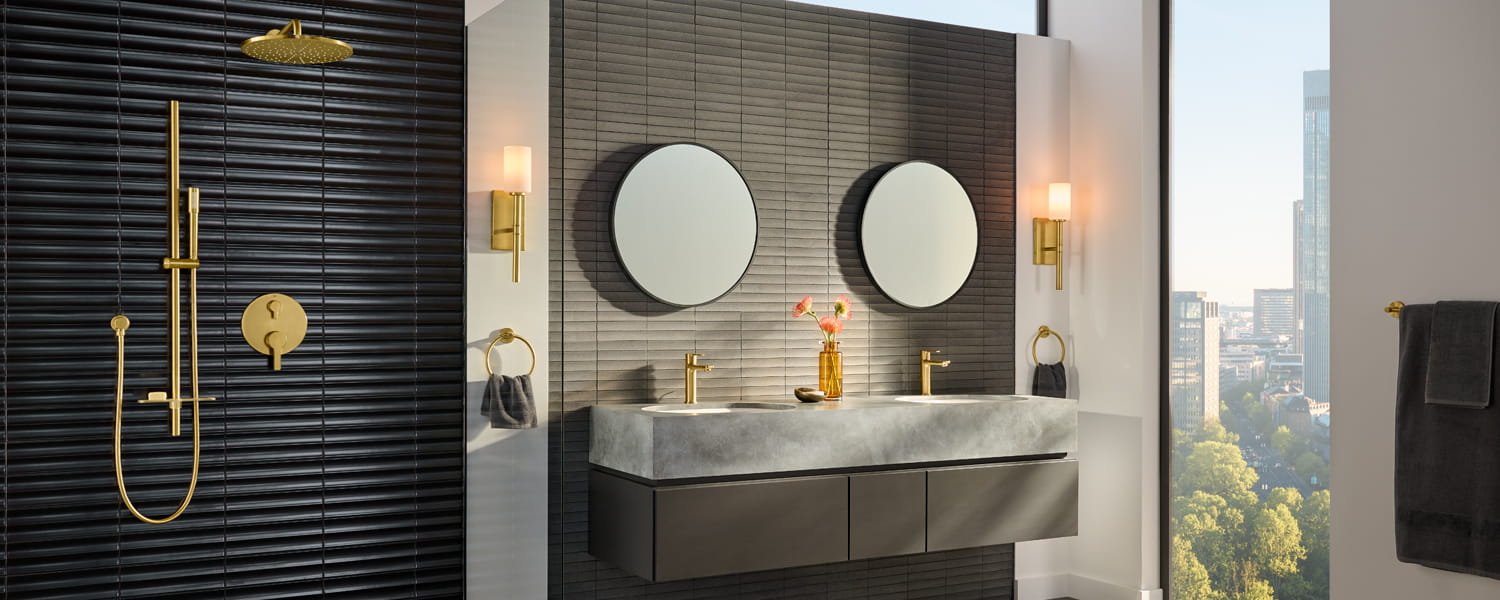 Nowhere in the home are tiles more welcome (and essential) than in the bathroom, and with so many different shapes, sizes, materials, and layout options available, you can let your creativity shine as you choose the perfect tile to match your vision. Read on to discover our top 10 unique, stylish, and statement-making tile designs for your bathroom.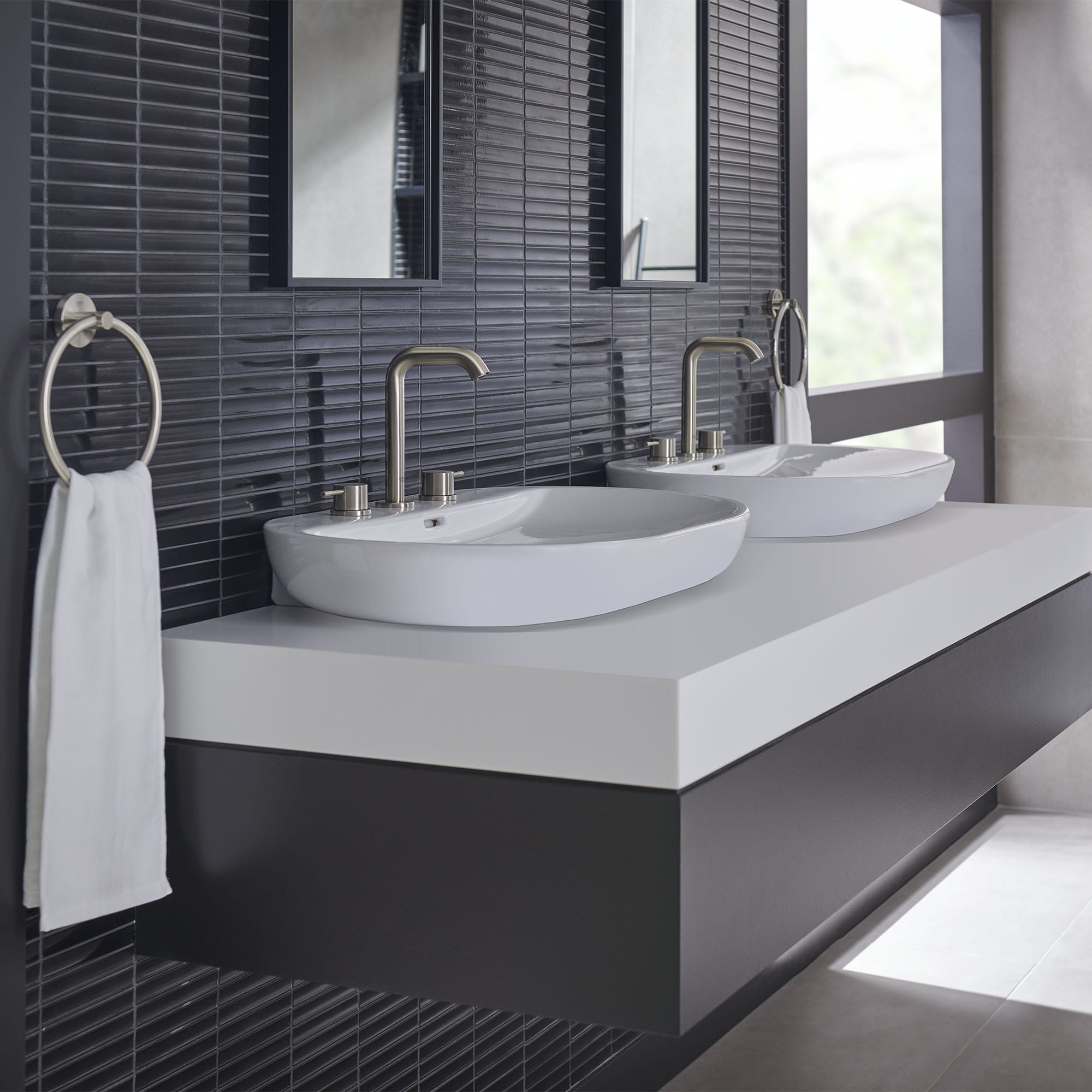 1. Tiled Accent Wall
As many consider bold paint colours to make an accent wall pop, the bathroom is the perfect place to use tiles for an eye-catching design. Providing colour, texture, and movement, tiles blend style and function for accent walls as they offer a water-resistant and easy to clean material that's perfect for shower walls and behind bathroom sink areas.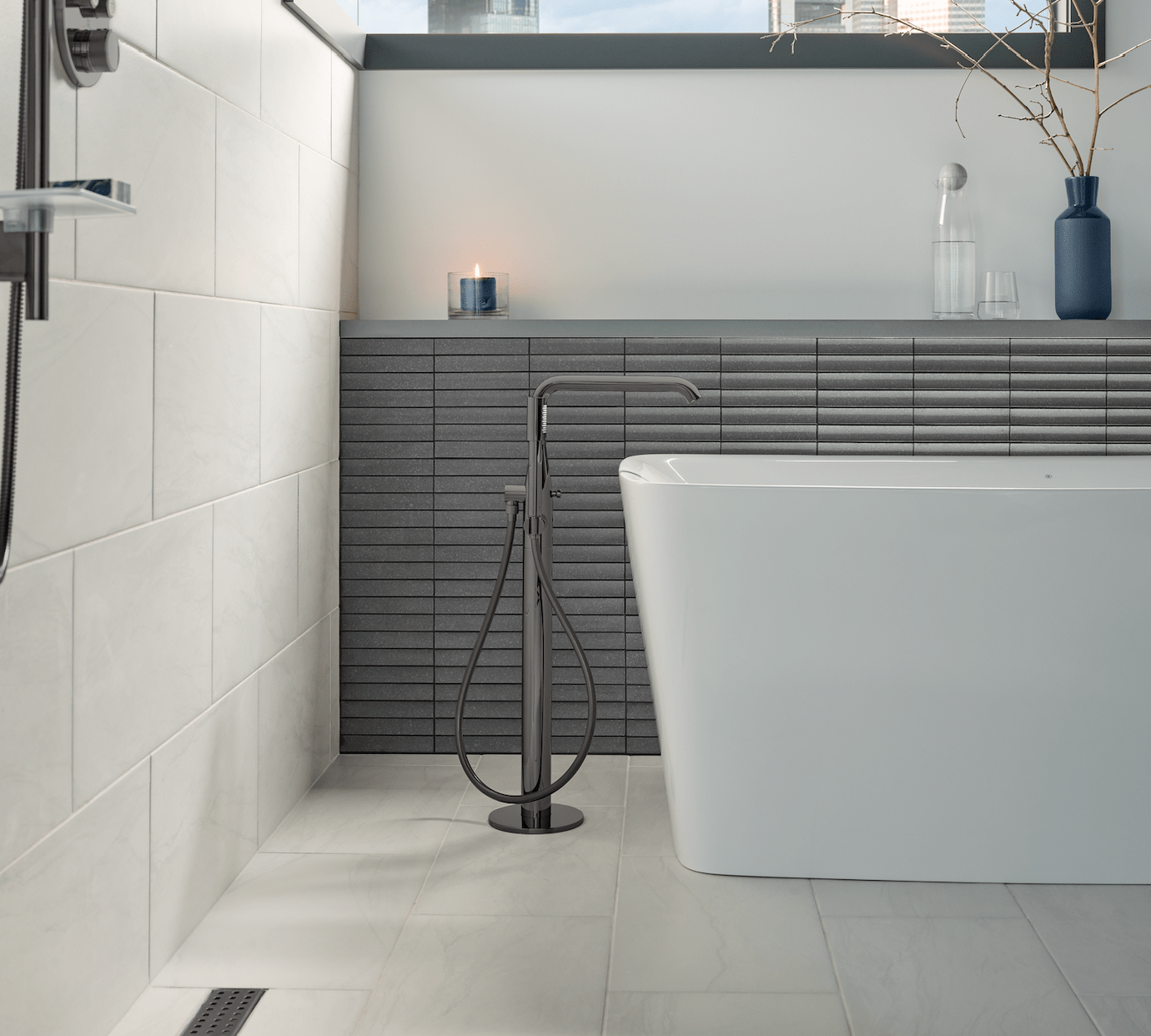 2. Contrasting Shapes
Bathroom tiles don't always have to be consistent throughout the whole space. Add definition and variety to your bathroom by placing contrasting tile shapes side by side for an unexpected but beautiful look. To keep a cohesive aesthetic, consider using tiles that still incorporate similar hues and materials.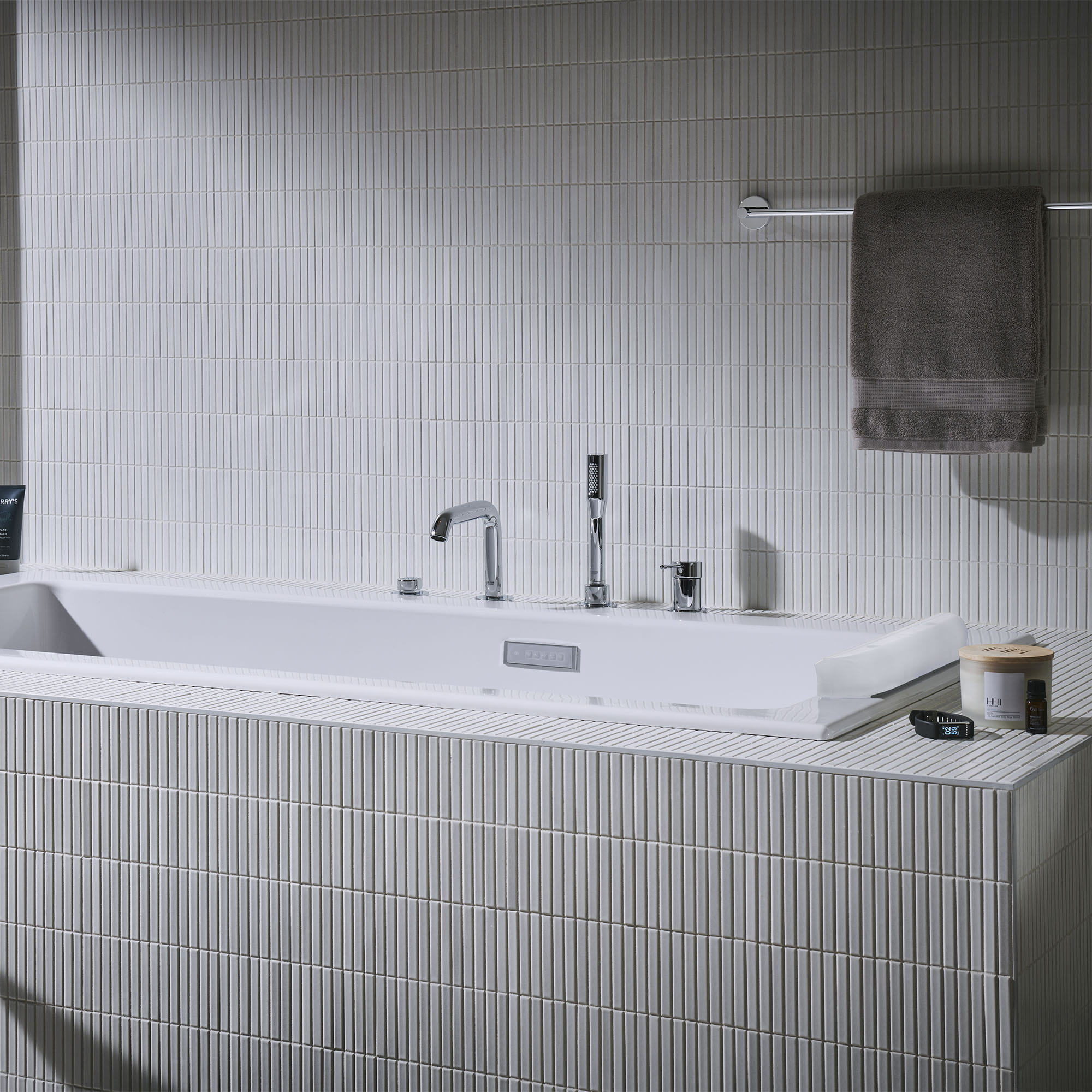 3. Narrow Tiles
Instead of large tile slabs, consider narrow rectangular tiles to add intricacy and detail to the bathroom. This tile style helps to add texture to the space, while drawing the eye to your statement-making pieces like an alcove tub, wet room, or accent wall.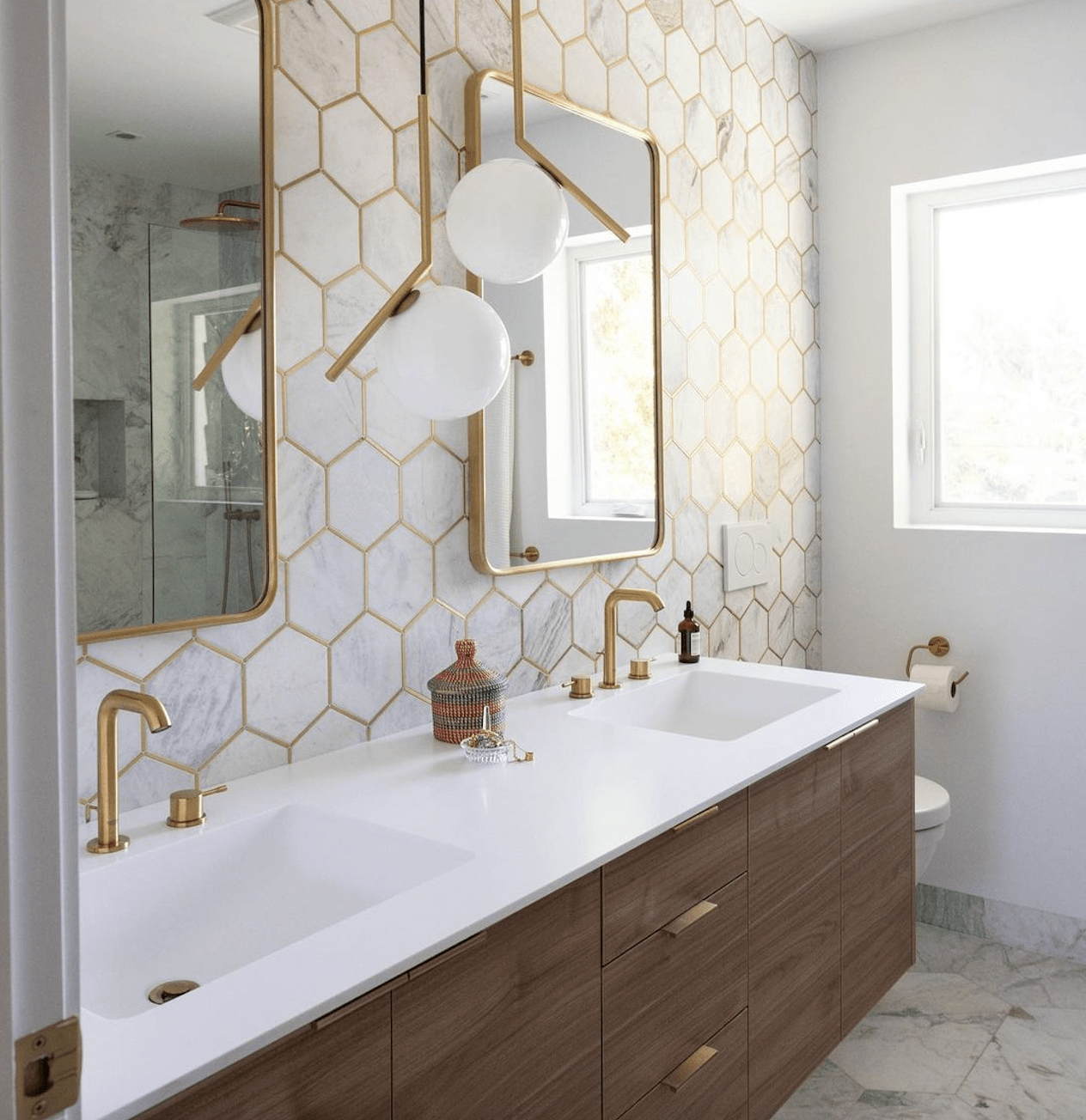 4. Mosaic and Penny Tiles
Small details can make a big impact and mosaic tiles are no exception. Whether you opt for a square or penny style, the small size of mosaic tiles leaves room for versatility and creativity, letting you create a monochromatic layout, incorporate multiple colours, or design borders and intricate shapes for a customized tile design on shower floors, backsplashes, and more.
Designer - @atelierroyheckl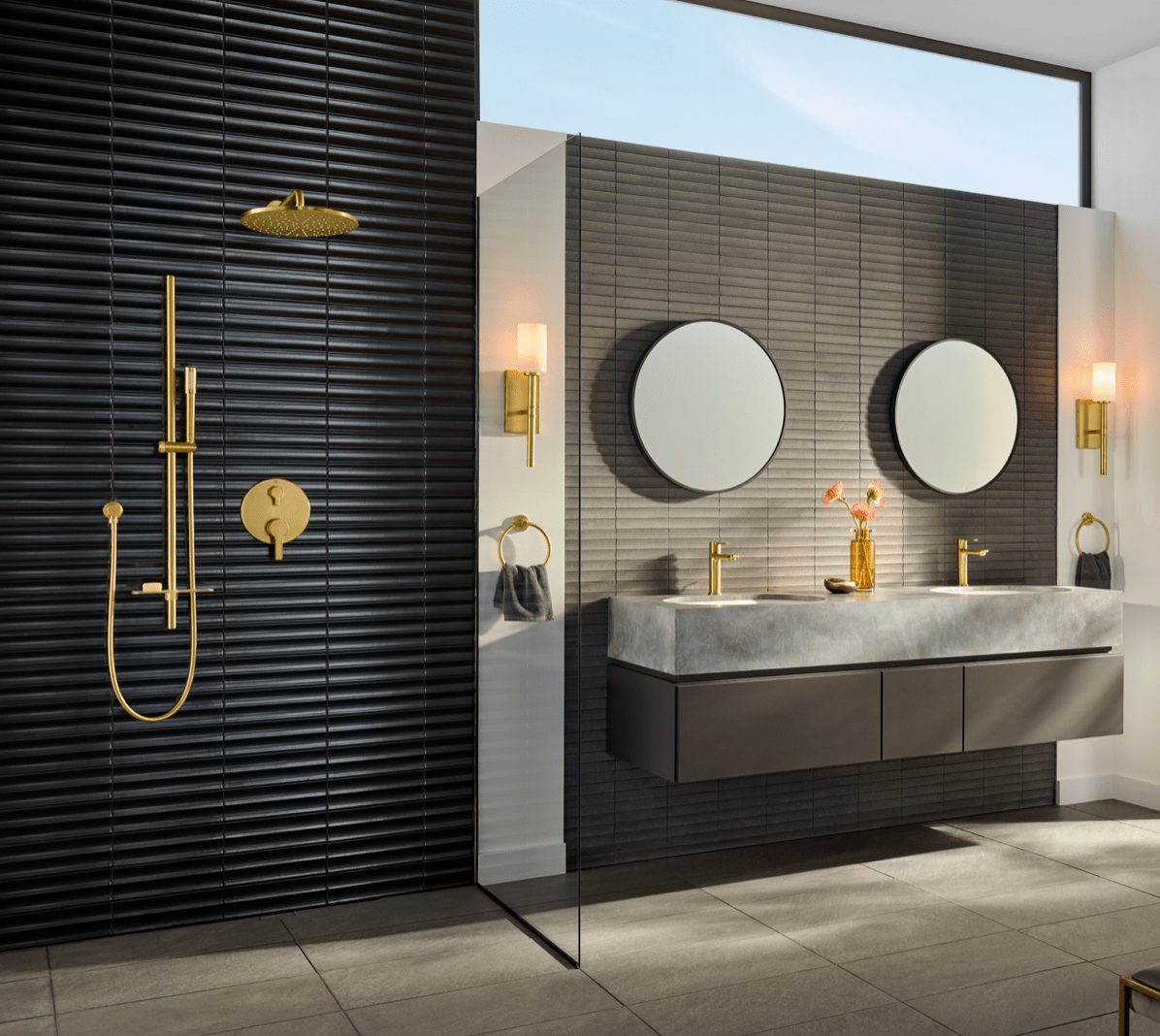 5. Complimentary Colours
Just as you don't have to stick with the same tile shapes, you can also use multiple tile colours throughout your bathroom. However, to avoid an unappealing colour pairing, look to complimentary colours to successfully add contrast and liveliness. Try splitting a wall in half with two different tile designs, or use a multi-coloured mosaic to achieve this look.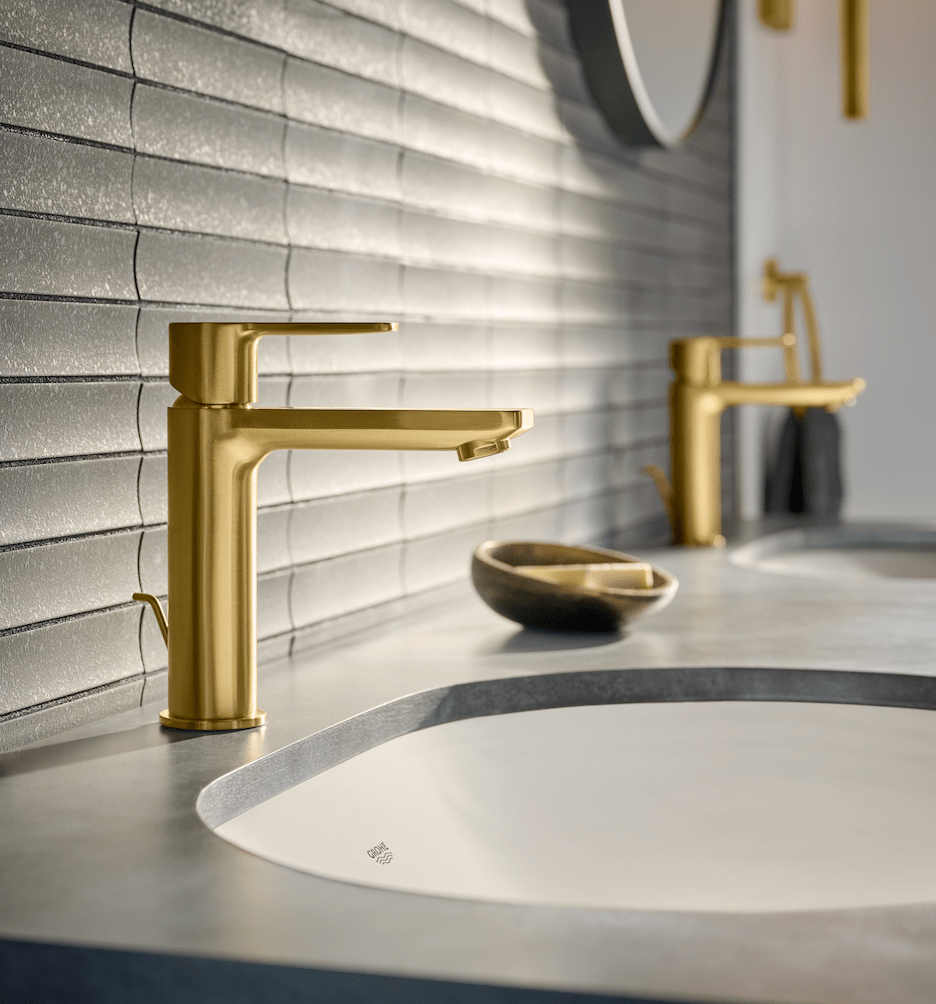 6. Textured Tile
Adding textural elements is essential in creating a monochromatic bathroom that isn't boring or dull. To easily add interest and dimension to your bathroom, be on the lookout for tiles with a raised design that helps to break up the space.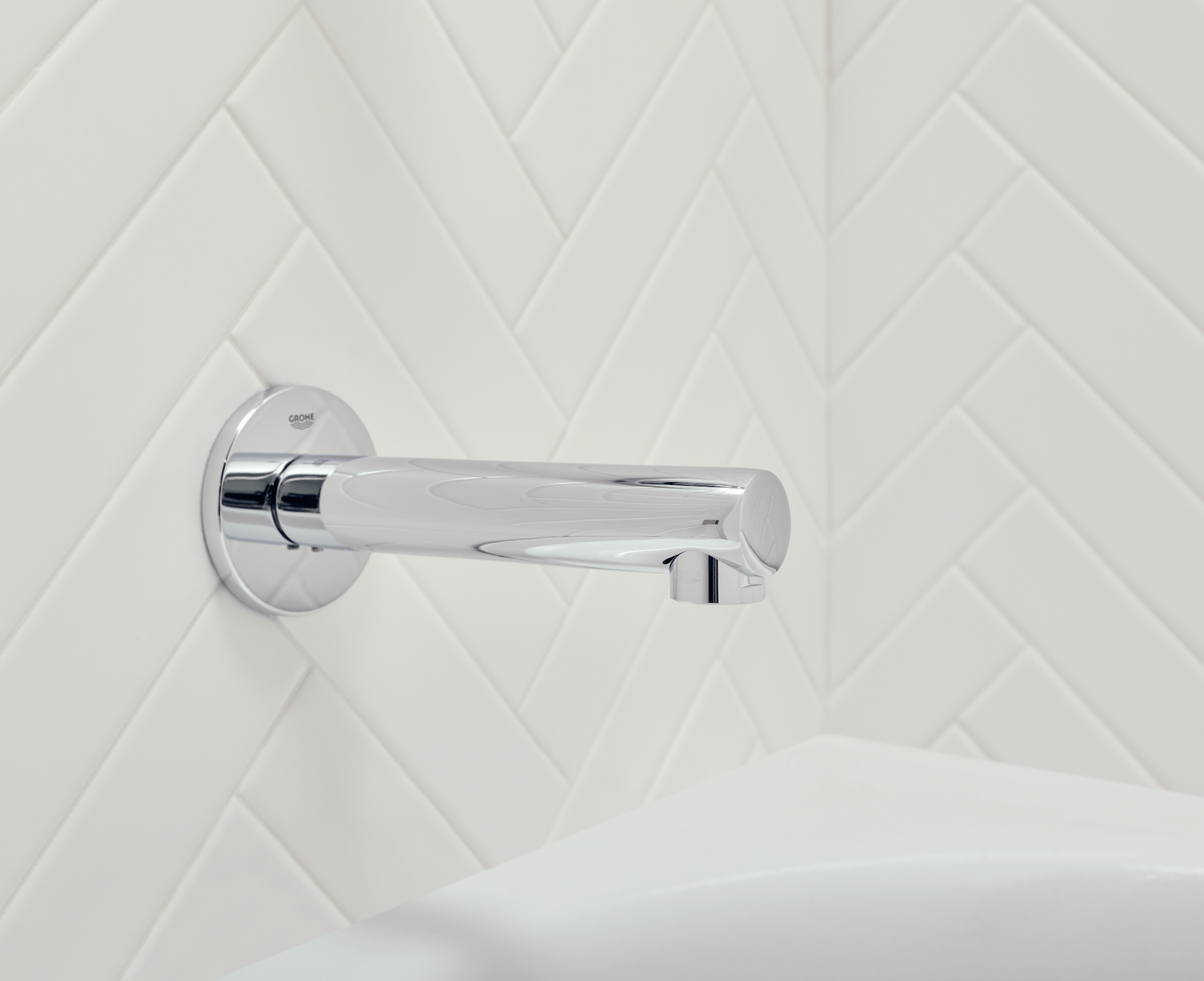 7. Herringbone Tile
An art-deco inspired design, herringbone tiles have continued to grow in popularity. Whether it's on the floor or walls, this chevron-style tile can make a subtle statement using a single colour, or a grand statement with unique colours, textures, and materials.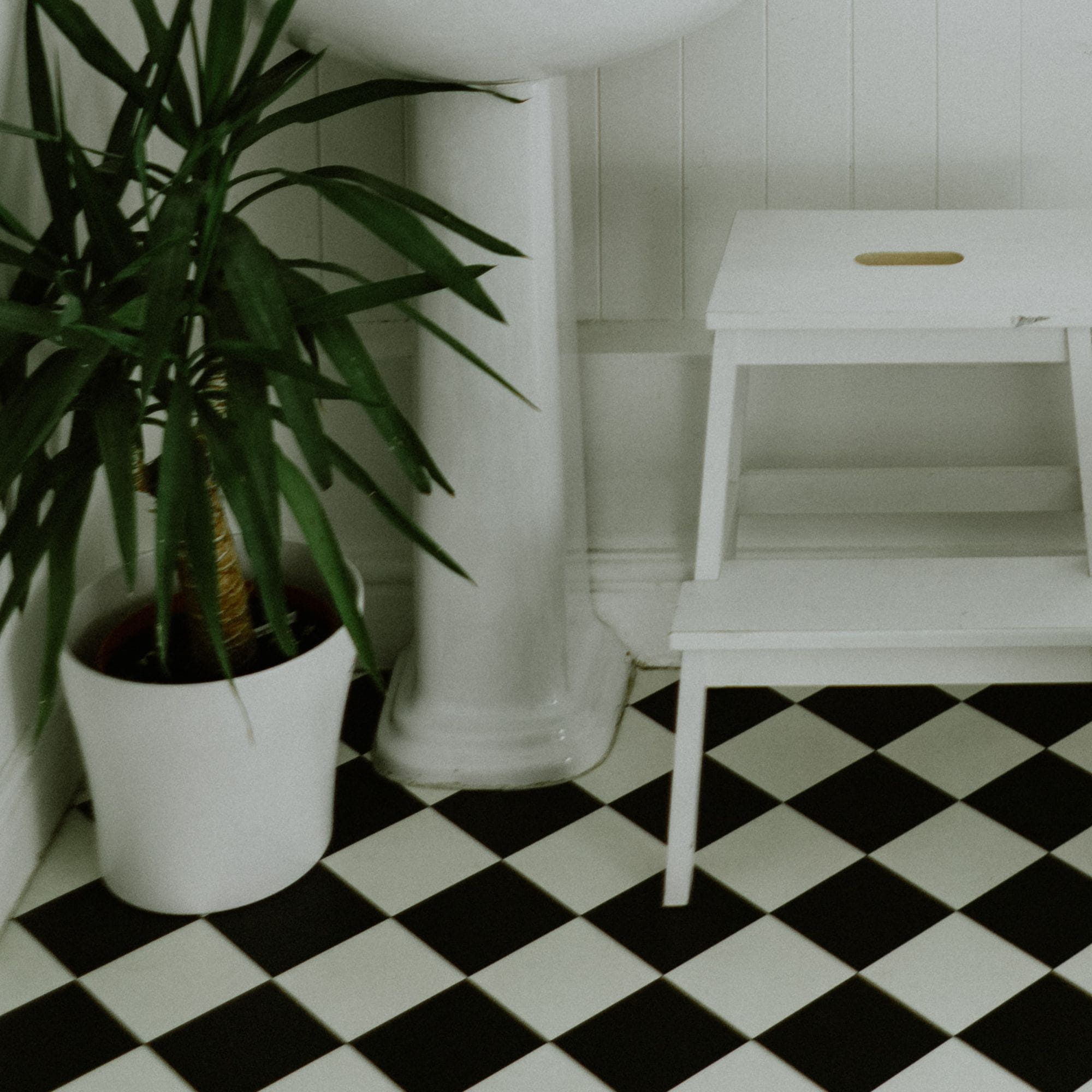 8. Modern Checkerboard
The classic checkerboard tile has had a modern makeover with designers choosing to stray from the traditional design. For a contemporary look, consider coloured checkerboard tiles that pull in paint or wallpaper colours, marble checkerboard, or uniquely sized checkerboard tiles.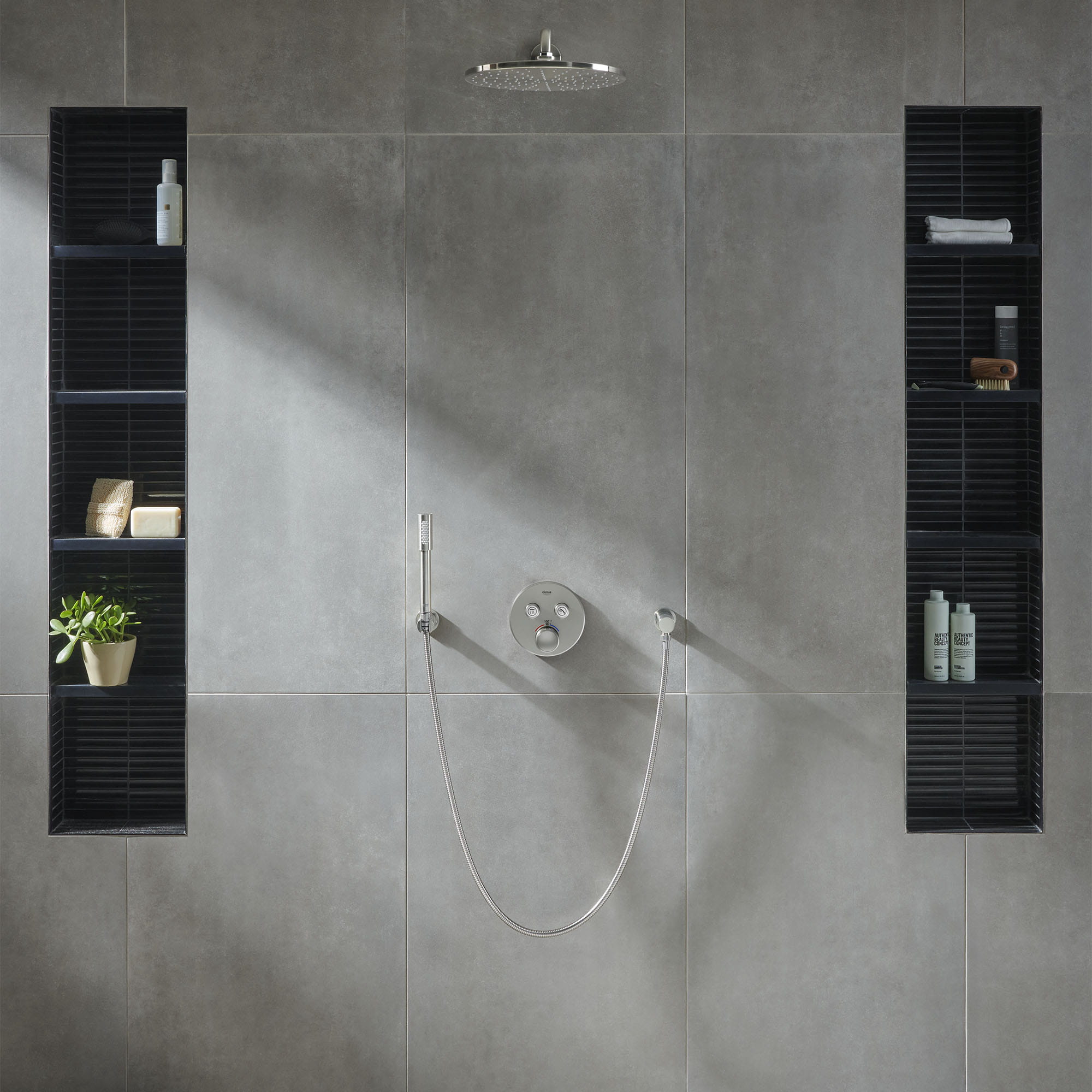 9. Natural Stone
Contemporary bathroom designs are all about bringing the outside in, and tiles are no exception to that. Opt for a natural stone as an accent wall or floor to ceiling tiles to create a spa-like sanctuary that promotes calmness and relaxation.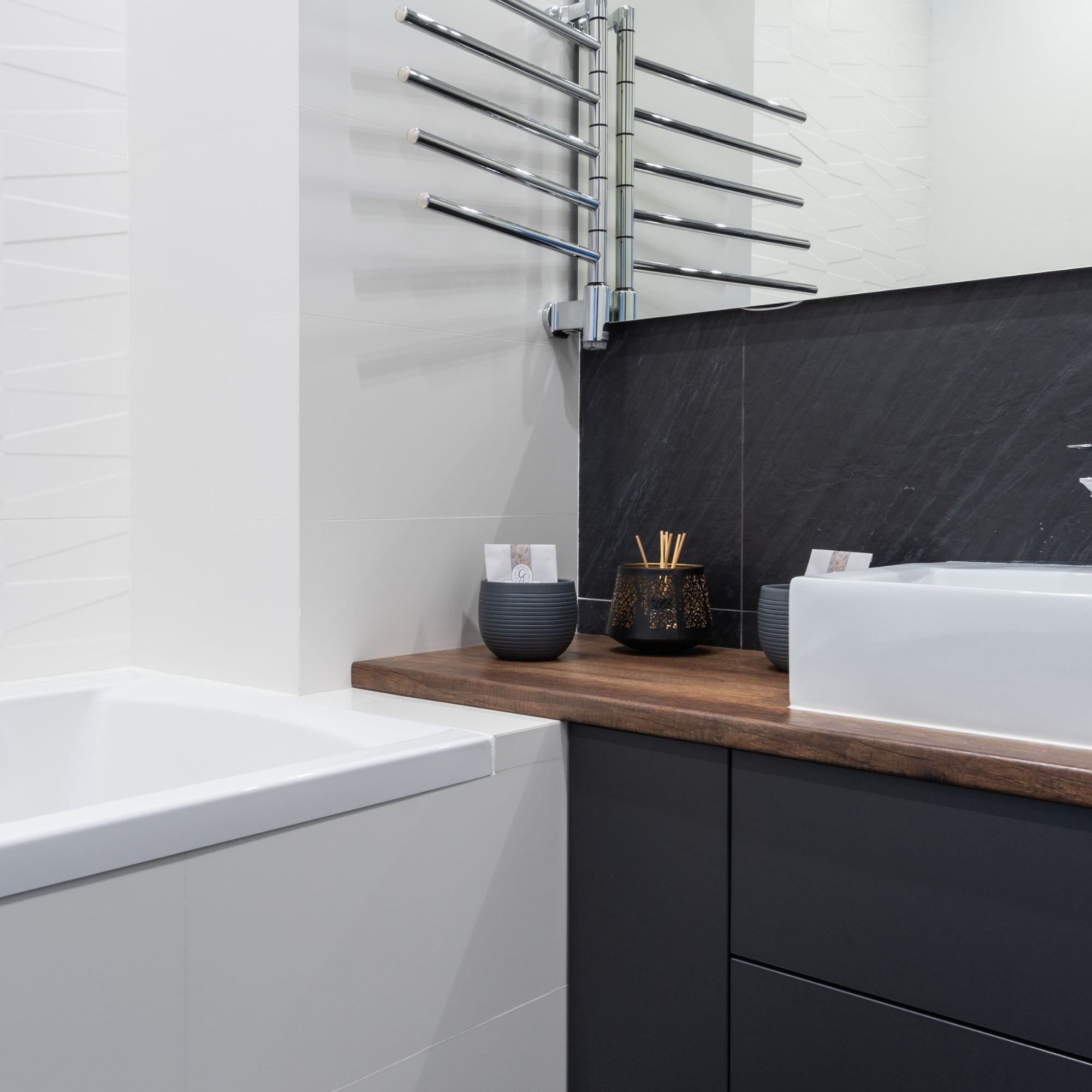 10. Mix Dark and Light
Whether you're creating a light and airy space or a dark and moody one, mixing dark and light tone tiles is a great way to elevate the space. Whether it's large areas like a dark grey tiled floor paired with white walls, or small accents like a black border on white tiles, combining dark and light tiles creates a classic contrast for a bold bathroom.