All About Shower Design: What You Want to Consider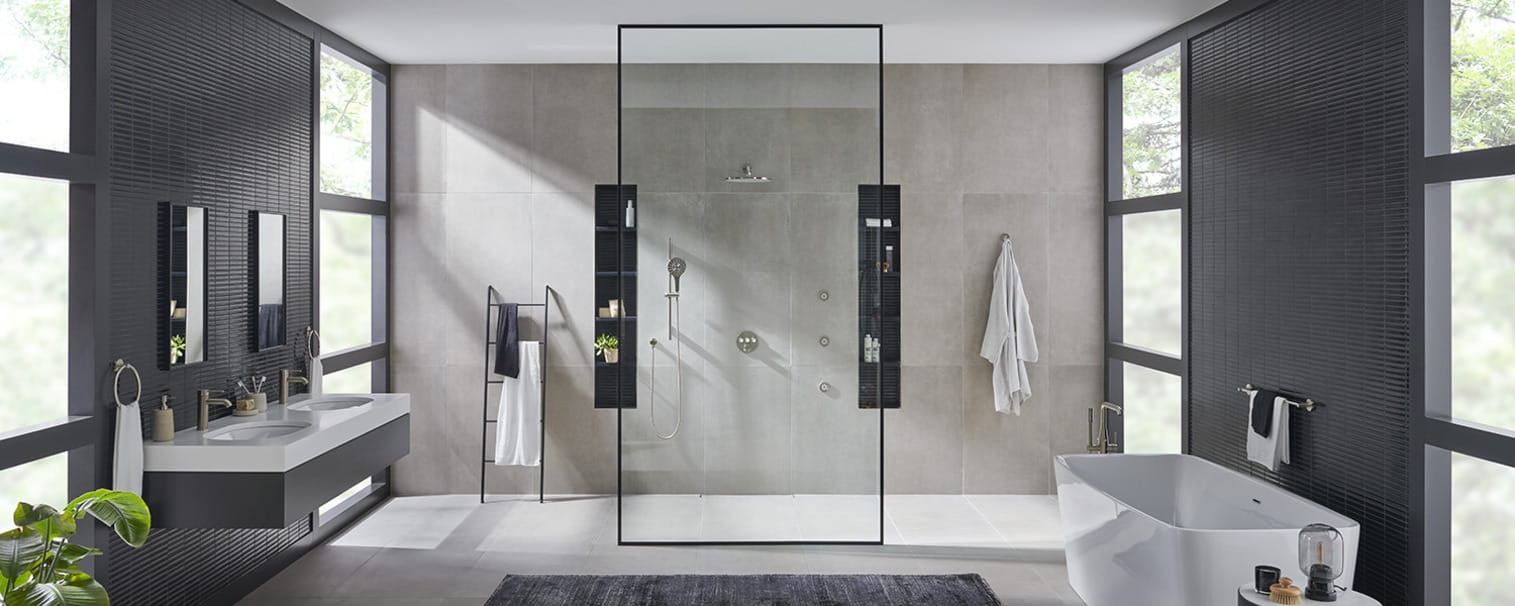 With a perfectly designed shower, your bathroom can transform into a tranquil escape that balances both function and style. But to achieve the shower set up of your dreams, there are certain features and details to review that can ensure your shower is a perfect match for your bathroom. Read on to learn GROHE's expert tips for shower design, and what you want to consider when building a shower that satisfies your needs.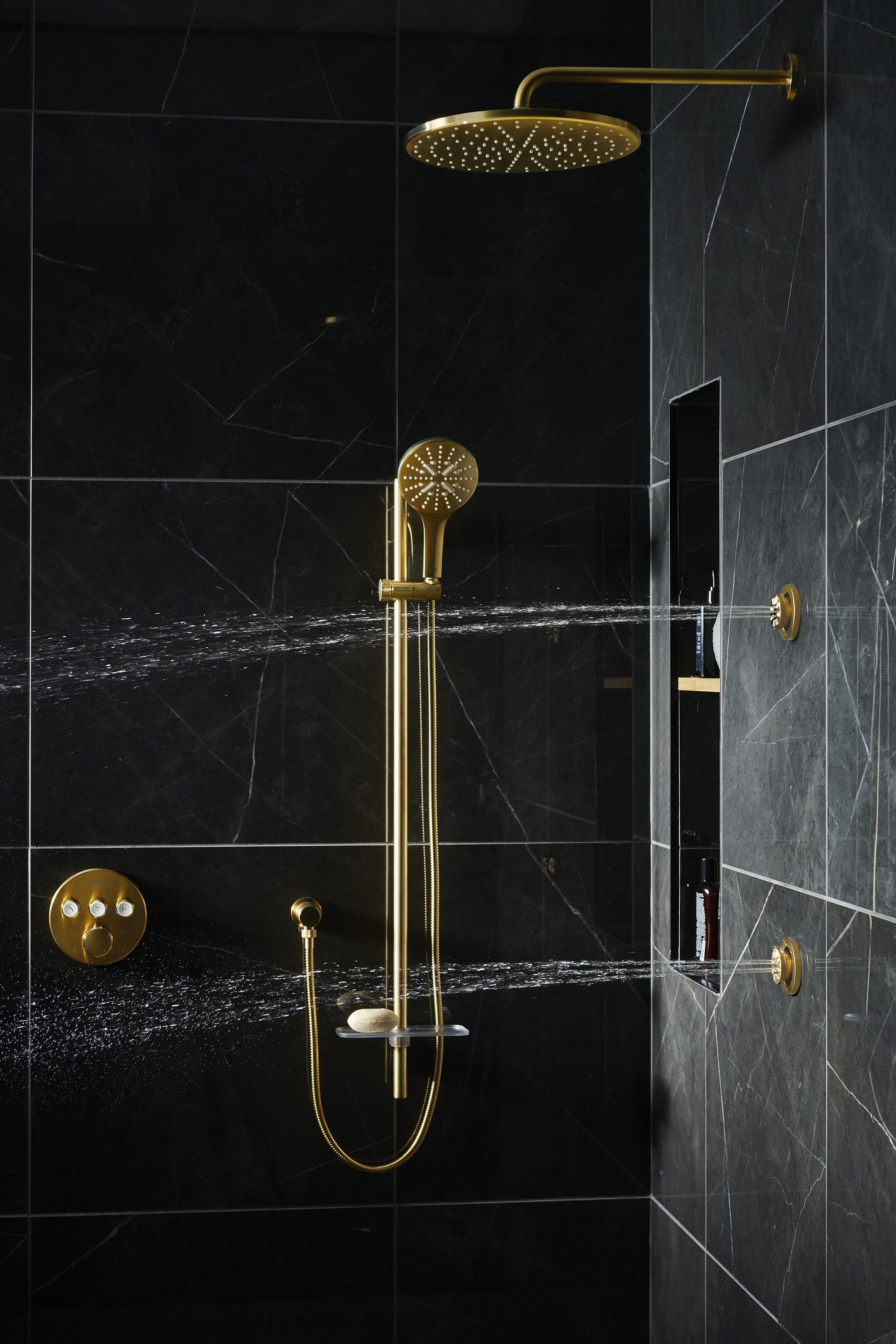 Choosing the Right Fixtures
Whether you are building a shower from scratch or updating an existing one, choosing the right fixtures are a key part of shower design. When sourcing shower fixtures, first ensure they are of high quality. GROHE prides itself on its German craftsmanship to provide you with fixtures that look and perform their best for years to come. From there, consider what individual fixtures will create a functional yet elevated shower experience. With a wider variety of finish styles now available, you can choose unique shower elements to customize your shower, but maintain a cohesive look with matching finishes.
•
Rain Shower Heads: One of the more popular types of shower heads, this shower feature not only makes a statement in your shower, but it also offers a larger surface for a drenching spray. GROHE's Rainshower 310 Mono Rain Shower Head features a generous 12" diameter and water saving technology for an eco-conschous shower head that doesn't sacrifice on performance.
•
Body Sprays: Shower Body Sprays or Jets instantly add a flair of luxury to your shower for spa-like pampering. Explore the versatility and customizing features of GROHE's Rainshower Aqua Body Sprays.
•
Hand Showers: Often overlooked, hand showers are one of the most efficient fixtures you can add to a shower. From cleaning the shower walls to washing pets, a handheld shower faucet makes it effortless to target small areas and hard to reach places. GROHE's Rainshower SmartActive Hand Shower offers three spray settings for a design that serves your day-to-day needs.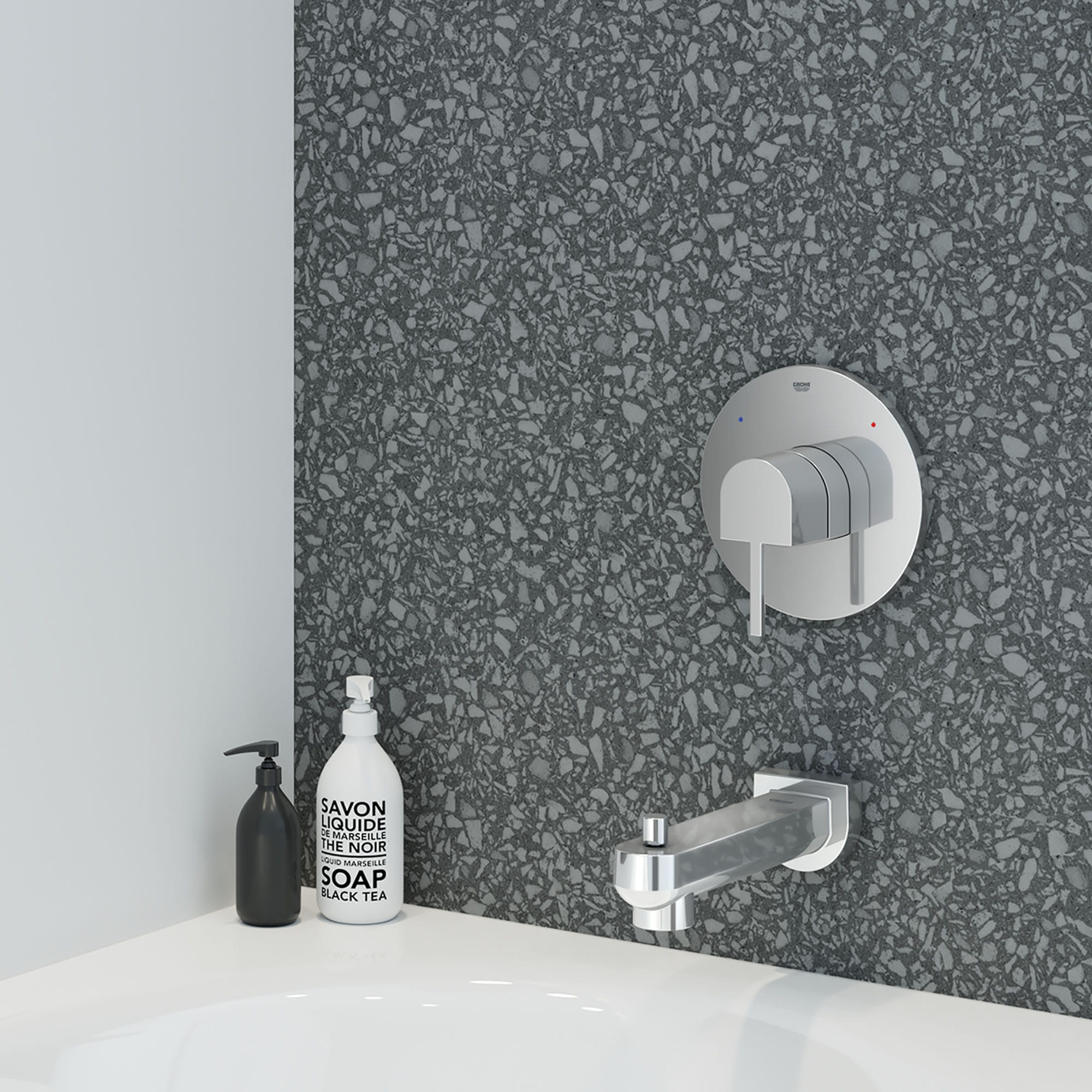 Pressure Balance Valve vs Thermostatic Valve Trims
PBV and Thermostatic trims each have their own benefits depending on what your shower priorities are. A Thermostatic Valve senses and controls the actual water temperature, while a Pressure Balance Valve (PBV) senses and controls only the ratio of hot water to cold. Pressure Balance Shower Valves ensure consistent water temperature and pressure despite any external influences, while Thermostatic trims make it easy to control multiple fixtures and water outlets with one system. This detail is important to consider in advance as it will influence your plumbing needs and the type of rough-in valve required for proper functionality.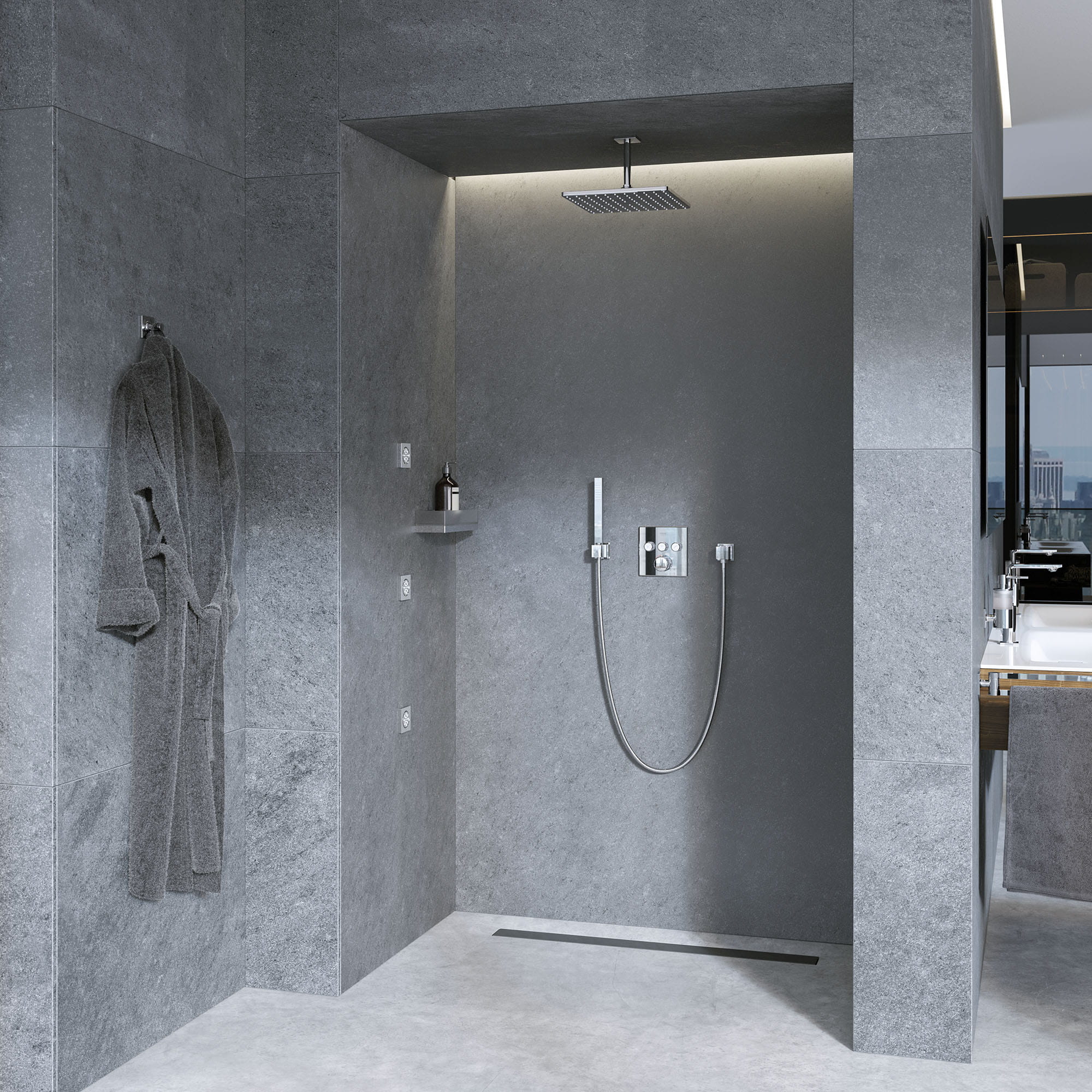 Curbed or Curbless
Although it may seem like a minimal feature of a shower, the curb is not to be underestimated. Shower curbs keep water from spilling into the rest of the space and act as a base for mounting shower doors and enclosure panels. A curbless shower design has become a growing design trend, offering a minimalist aesthetic that creates the illusion of a larger space. This feature also improves accessibility for those with limited mobility, a benefit for those looking to age in place. However, curbless showers require an existing shower floor to be lowered in order to create a sloped path to the drain, so it's best to consult with a professional about what is realistic for the space.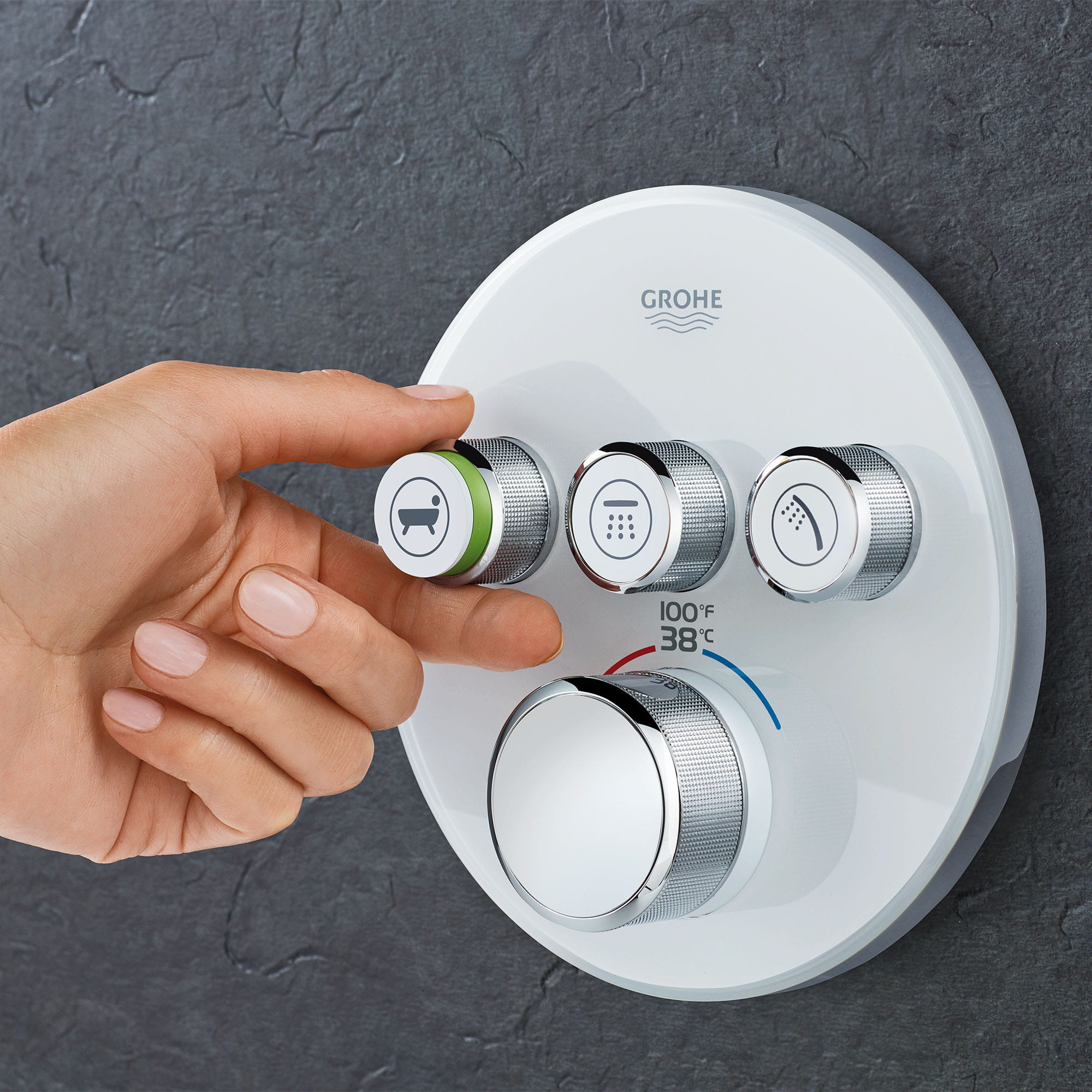 Shower Technology
For a shower that is as convenient as it is relaxing, consider incorporating modern shower technology into your space. As the leader in shower innovations, GROHE has crafted state-of-the-art technologies that elevate your shower into a customized experience. The
Grohtherm SmartControl Triple-Function Thermostatic Valve Trim
makes it effortless to personalize your shower. With a simple push and turn of a button, you can adjust the water flow, temperature, and outlet, for the perfect settings every time you step in the shower. GROHE
SmartControl
shower systems also feature unique innovations like GROHE Ecojoy to save on water usage, GROHE TurboStat to maintain a consistent water temperature, and a GROHE SafeStop override button to set a maximum temperature of 100° F/38° C to prevent scalding. Learn more about the benefits of Smart Showers
HERE
.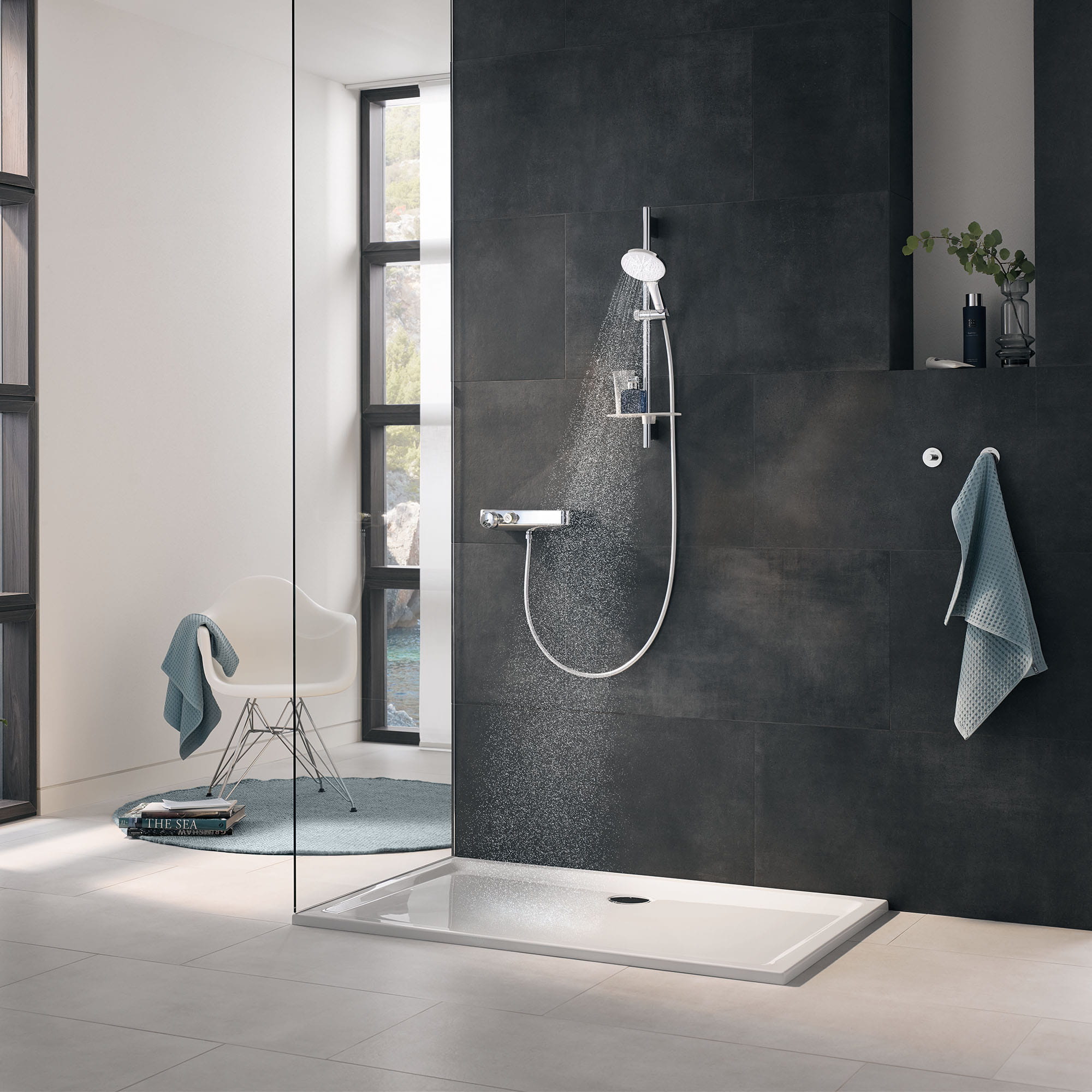 Enclosure Types
Depending on the layout, size, and style of your bathroom, certain enclosure types may help optimize on space and create a luxurious design. Glass enclosures are featured frequently as they feel light, airy, and make the space feel bigger. They also expose the beautiful shower fixtures, allowing them to become a focal point for the bathroom. For a statement making shower, open-concept wet rooms have become a trending design choice. This doorless option uses a fixed glass panel, partition walls, or even no barriers at all to create a contemporary design that emulates a spa environment.

For those with small spaces, the way in which your shower door opens is an essential piece of the puzzle. Although hinged swing doors are common for most showers, they open outward and require at least 22" of clearance from other objects. In cases where you can't sacrifice floor space, a sliding door may be the best option.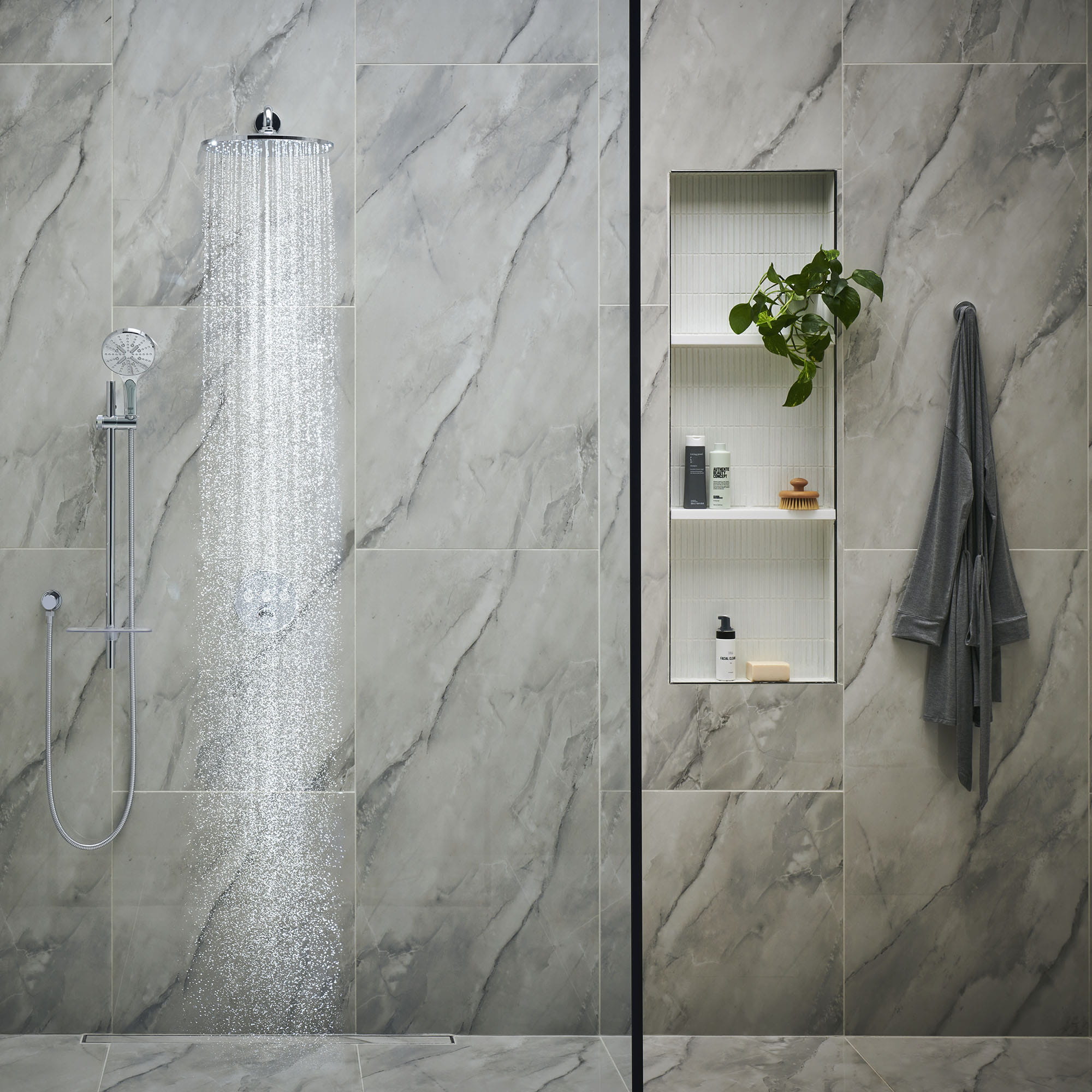 Niches and Seating
Balancing elegance with function is essential to building the perfect shower, so if space allows, niches and seating are some popular shower must-haves. Niches and shelving help to keep your shower organized and clutter-free while introducing unique design elements to the space. Because niches are completely customized, take an inventory of your most-used products to determine what the minimum dimensions need to be.

Shower benches are often seen as an unnecessary element, but for those designing showers for long-term use that can adapt with aging family members, a shower bench may help to create a more accessible shower.